From July 2009 Newsletter
New Director-General for Campden BRI
Dr Steven Walker has formally taken up the role of Director-General of Campden BRI, succeeding Prof. Colin Dennis who retired in June.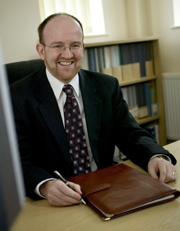 Steven joined the business in 1987 and was appointed Director of Research in 1995 - a role he held for 10 years. From 2005 until 2009 he was Director of the Division of Cereals and Cereal Processing. During his 22 years service, Steven has played a major role in both the scientific and commercial aspects of the business, has worked closely with our members, Government and trade bodies on many issues, and has been actively involved in the evaluation of other research organisations in the UK and overseas.
Steven comments, "Industry faces major challenges - both commercial and in terms of broader concerns such as food security and sustainable production. Science and technology offers many solutions, and as a major provider - with well-established networks throughout industry, government, universities and other research organisations - we are ideally placed to partner our members and other clients in meeting these challenges."
Bob Clarke, Chairman of Campden BRI commented, "I am very much looking forward to working with Steven in the further development and strengthening of Campden BRI. These are exciting times as we begin to consolidate the benefits of the merger between the former Campden & Chorleywood Food Research Association (CCFRA) and Brewing Research International (BRI), including the increasingly international outlook of the business."