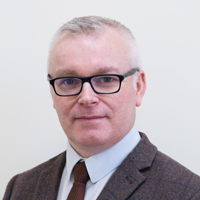 Martin D'Agostino
Principal Virologist
Martin D'Agostino joined Campden BRI in May 2016 as a food virologist after having worked at the Food and Environment Research Agency (DEFRA) since 1994. His microbiological career began with Kennerty Farm Dairies in Aberdeen (now Robert Wisemans) as a laboratory assistant, monitoring the microbiological quality of milk and milk products until he joined what was the Torry Food Science Laboratory (Central Science Laboratory, MAFF) in 1994 (now named Fera Science Limited).
During this time he has been involved various projects funded by the UK FSA and EU Framework 5, 6 and 7 projects across many areas including Food PCR (FP5), Surveillance of Adenovirus and Norovirus in European Bathing waters (FP6) and was assistant coordinator of the FP7 project entitled "Integrated monitoring and Control of Foodborne Viruses in European Food Supply Chains". Martin has experience of chairing and presenting scientific talks at national and international scientific meetings and has been author in over 30 publications including journal manuscripts, several reviews and book chapters related to the detection and implementation of rapid methods for foodborne and environmental human pathogens as well as being an editor for an Academic Press book on "Molecular Microbial Diagnostic Methods".
He is currently undertaking a part-time PhD at the University of Liverpool with the subject "Investigation of the Contribution of Fresh Produce to the Norovirus Burden"