Food allergens
Dealing with food allergens can be challenging – but our teams at Campden BRI can help. We offer a range of services to support your allergen management needs including testing, training, publications and consultancy and support in allergen management, legislation and labelling. These services can be customised to your requirements. Please contact us to discuss how we can assist in complete confidence.
Testing for food allergens
Testing for food allergens is important to check the efficacy of allergen management controls. We can test for the presence of food allergens for:
Cleaning validation – sample types including final products, surface swabs and rinse waters
Compliance with labelling legislation and claims
Investigation of consumer complaints
Development of 'allergen-free' products
Confirming the allergen status of raw ingredients
We offer tests for a wide range of allergens including: cereals containing gluten; crustacea; egg; fish; peanut; soya; milk (casein, beta-lactoglobulin, lactose) ; nuts (almond, hazelnut, Brazil nut, cashew, macadamia, pecan, pistachio), celery, mustard, sesame, lupin and sulphite. Please contact us to discuss your allergen analytical needs support@campdenbri.co.uk
Training on food allergens
Campden BRI offers a scheduled half-day live online tutor-led training course - 'Communicating food allergen information' - the course covers allergen labelling of prepacked food, requirements for prepacked for direct sale products (Natasha's law), communication of allergen information for food sold loose (e.g. in catering establishments) and also free-from allergen claims and precautionary allergen declarations.
We also offer a one-day course on 'Allergen control' aimed at those involved in managing allergens in food and drink production. Delegates who complete this course will have a greater appreciation of how to implement and audit an allergens policy in a food handling environment. We are happy to tailor this course to the needs of specific companies and to hold the course either online or at a venue to suit you (e.g. our purpose-built training centre, client site, third party venue).
To either find out more, book a place on the next 'Communicating food allergen information' training course or enquire about the 'Allergen control' course, please contact: Training Department: +44(0)1386 842104 training@campdenbri.co.uk
Publications
Food Allergens: practical risk analysis, testing and action levels (Guideline No. 71). This guideline provides an overview of allergen management with reference to food safety systems, including a systematic approach to aid identification of risk factors. General information is also provided on allergen testing. Circumstances where use of the 'Action Level' concept may be applicable when conducting a risk assessment to determine the need to include precautionary labelling is discussed.
Validation of cleaning to remove food allergens (Guideline No. 59). This guideline provides detailed guidance on how to demonstrate that cleaning mechanisms are effective, by using testing to validate the cleaning method. It also details what tests are available, sampling options and the limitations of testing. It does not discuss cleaning per se, as this is covered in our related guide 'Cleaning and disinfection of food factories: a practical guide' (Guideline No. 55).
Other related publications include:
For further information on our publications, and to place an order, please visit our online publications store.
Food allergen management
Allergen management involves evaluation of the potential for cross-contamination at every step of the food production process - from raw materials sourcing to delivery of final product to the consumer. Allergen management controls may include, but are not restricted to:
Supplier questionnaires to check the allergenic status of ingredients
Physical segregation within the production area
Scheduling of production runs (including appropriate cleaning between runs)
Checking that products have the correct packaging and allergen labelling
For advice on allergen management including risk assessment, HACCP, auditing, formulation of allergen policy, practical allergen control (e.g. scheduling), cleaning to remove food allergens, factory design and validation of cleaning to remove food allergens, please contact support@campdenbri.co.uk
Food allergen legislation and labelling
Several countries and regions (including Europe, America, Canada, Japan, Australia and New Zealand) have introduced legislation that requires the presence of the major food allergens, or their derivatives, to be labelled when included as ingredients in prepacked foods. Such information is also increasingly required to be provided to consumers for foods sold loose, such as in catering situations.
Many businesses want to make 'free-from' allergen claims for their products, and precautionary allergen labelling (PAL) may be a consideration to indicate the possible presence of unintentional ingredients that people may be allergic to.
For guidance on providing allergen information, allergen labelling and legislation that applies to allergens in foods, please contact our Regulatory Affairs team: regulatoryadvice@campdenbri.co.uk
Key services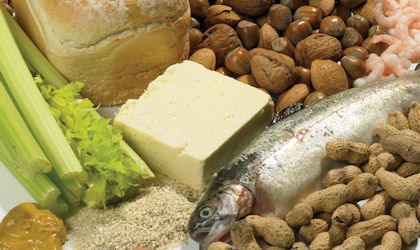 Potential problems of naturally occurring toxins are wide ranging, our teams can help you identify and test for hazards in your products.
For further information or prices please contact us:
Allergens
Explore our allergen related courses including; communicating food allergen information and allergen control
Are you getting the most from your Membership?
Watch our membership FAQ videos and find out more about Member Service Account spending, Member Interest Groups, help and advice
Where we refer to UKAS Accreditation
The Campden BRI group companies listed below are both accredited in accordance with the recognised International Standard ISO17025:2017 by the United Kingdom Accreditation Service (UKAS). The accreditation demonstrates technical competence for a defined scope of methods, specific to each site, as detailed in the schedules of accreditation bearing the testing laboratory number. The schedules may be revised from time to time and reissued by UKAS. The most recent issue of the schedules are available from the UKAS website www.ukas.com
Campden BRI (Chipping Campden) Limited is a UKAS accredited testing laboratory No. 1079 Campden BRI (Nutfield) is a UKAS accredited testing laboratory No. 1207