Brewing and malting pilot plant facilities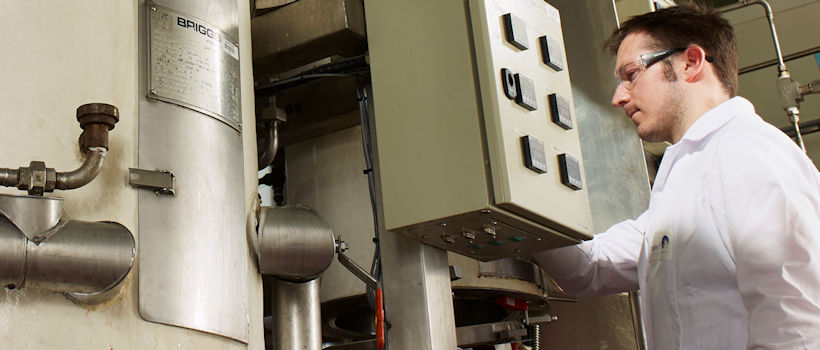 Our malting and brewing pilot plants and process teams offer a range of services to help develop and improve your product, and optimise production costs. We can help with new product development - including the use of speciality malts, new variety trials (for which our micromalting services are particularly useful), safety evaluations and process optimisation.
Amongst the many aspects of the brewing process that we can help to optimise are dissolved gas levels, beer filtration, and energy usage.
These pilot scale-based services can help you to achieve significant cost savings on time and increased flexibility in the scope of your project. In addition, you will also gain an advantage from working with our consultants on developing your ideas and solving problems. Our state-of-the-art facilities offer a high degree of flexibility and accurate process control.
Other pilot plant services we offer include:
Pilot brewery
It is fully quality management system accredited to ISO 9001:2008. The brewery is used for research into process and health and safety issues, new product development, training, process technology development and appraisal and raw materials assessment.
The brewhouse comprises a mashing station, stirred mash conversion vessel and cereal cooker, wort separation by lauter or Meura mash filter, stirred kettle and trub separation by whirlpool or hop back.
Fermentation is in 100 litre cylindro-conical fv's which can also be used as unitanks.
We have many special features installed in the brewery, including:
carbon dioxide and nitrogen bulk gas tanks
a gas blender enabling mixed gas products to be produced with increased ease and efficiency
an hydrophobic gas control rig was installed for the production of de aerated liquor and for
carbonation/nitrogenation of beer
flash pasteurization for the production of small scale marketing trials
Packaging methods include bottling, canning and kegging using carbon dioxide or mixed gas applications.
All-in-one small-scale brewing (25L)
Small pilot scale trials, as a part of your NPD and to move towards large-scale production, are critically important. Yet, testing raw materials, developing recipe and process, creating new products and scaling up can be challenging - taking time and incurring costs.
With our all-in-one system, you can:
Save time with a small batch volume and support from our expertise
Reduce financial risk with small quantities that are relatively low in cost
Consider potential issues with brewing a new product before scaling up
Ensure your drinks product fits expectation with our comprehensive analysis from our in-house team of scientists. Testing includes determining the alcohol content, pH, bitterness, gravity, carbonation level, haze, aroma, any off flavours and many other factors.
Pilot malting
This plant was built to bridge the enormous gap between conventional micro malting systems and the real world. It is capable of producing malts of commercial quality and flavour which are suitable for brewing. It is fully quality management system accredited to ISO 9001:2008.
Steeping and germination are carried out in malting drums but the kilning takes place in dedicated units which accurately simulate modern deep bed kilning systems.
The whole maltings is automated and can operate over a very wide range of temperature and humidity. This enables it to mimic the many different conditions found in malting plants all over the world. The plant is used for research into process, health and safety issues and training. It can also be used for new product development.
Steeping
control of water temperature
control of aeration
control of air-rest ventilation
in-line dosing is possible
Germination
single pass or recirculation air
variable temperature and moisture profiles
spray additive system
adjustable auto-turning regime
Kilning
By control of kiln recirculation by relative humidity set points above the kiln bed reproducibility of processing is greatly enhanced which allows us to control colour and flavour. The pilot kilns can therefore produce a range of malts covering distilling malts, white malts , Vienna and Munich style malts, therefore producing a range of colour from 2 - 100 EBC.
Roasting
A roaster has been manufactured for the production of speciality malts. It is capable of producing crystal and patent malts (chocolate and black malts and roasted barley). This extends our colour range from 2 - 1500 EBC. Products of these two plants together, can therefore, encompass the whole range of malts seen in the commercial world.
The roaster has been successfully used for new product development eg Cara-Gold which is now widely used commercially. Both the roaster and the pilot maltings have been used to study the use of other cereals as brewing raw materials eg wheat, oats, rye and triticale.
The pilot maltings operates on a 50 kg batch size and the roaster on a 3 kg batch size. Both plants are available for commissioned work through our contract service system.
Speciality malts
Campden BRI's pilot scale roaster is available for the production of speciality malts. These may be used for brewing or as ingredients in food manufacture. The roaster is particularly useful for new product development and has already been used to develop 'Cara Gold'which is now commercially available.
Micromalting
Micromalting is available on 3 scales, dependent on requirements:
It can be used for a variety of purposes, such as:
New variety trials
Process optimisation
At Campden BRI we offer state-of-the-art expertise in current dissolved gas control technology, with a flexible service with keg-sized volumes processed at Campden BRI and small BBT volumes processed on-site. Our response is rapid and we offer professional back-up services in areas of dispense and sensory to provide a complete package.
Application of dissolved CO2/N2 combinations and oxygen removal for product enhancement
Expertise in the use of hydrophobic membranes for the control of dissolved gases (CO2/O2/N2)
A pilot scale gas control facility, incorporating a hydrophobic membrane
Dissolved gases case study
An international brewer was keen to develop a nitrogenated product but needed much more information on optimised dissolved gas levels.
A small number of kegs of the base brand were prepared at Campden BRI with a range of nitrogen and carbon dioxide levels. Small scale market testing by the brewer established the optimum.
The new brand has since been produced to a specification established by Campden BRI.
Beer filtration and separation
Beer and wine provide their own specific filtration, separation and flocculation issues. These can be optimised or problem-solved with our range of facilities and expertise. Facilities such as particle size analysis and beer and wort analysis enable us to provide a range of services to support the processing industries
Our "Haze Identification Service" enables troubleshooting of filtration problems caused by the product.
Commercial appraisal of :- Novel filter aids or stabilisers, The performance of membrane filters, Current filter aid brands, Flocculant performance
Measurement of the concentrations of particles as small as 0.4 μm in rough beer and assessment of the consistency of the rough beer feed
The best available technologies for characterisation of process aids such as kieselguhr
Photon Correlation Spectroscopy (PCS) enables unprecedented information on filter clarifying performance and therefore should enable direct financial savings to be made in multi-stage filtration (e.g. for "cold-filtered" products)
A definitive filter aid screening protocol, developed at Campden BRI, enabling not only the quality of filter aids to be assessed, but also its suitability
A selection of laboratory test equipment for quick and easy assessment of the overall filterability of beer samples or simulation full-scale filtration on the laboratory scale. The optimum filter aid regime for a given brand may be identified
In particular, if you produce membranes for crossflow microfiltration, then we can evaluate them.
Crossflow microfiltration membrane evaluation
Brewers are looking for a better, and more environmentally acceptable alternative to filter aid filtration. Crossflow microfiltration is the best candidate to fulfil this role. Do you think your membranes are fit for the job? Yes? Then let us provide that essential link between you and the brewing industry.
Campden BRI has considerable expertise in crossflow filtration. Comprehensive evaluations of crossflow membrane modules for their potential use at different stages within the brewing process include:
Optimization of operating and cleaning procedures
Pore size effects e.g. on flux and beer quality
Flux enhancement techniques e.g. backflushing
Filtrate quality analysis
Taste profiling (flavour stability)
Long term storage (shelf-life) trials
Energy saving in wort boiling with PDX
PDX Wort Heater technology is a recent innovation that has demonstrated energy savings, typically 10% of an entire brewery's energy usage. At Campden BRI we have a PDX Wort Heater system available in the Pilot Brewery. The system is able to assist brewers by:
Demonstrating that the client's key brands are amenable to PDX Wort Heater technology
Demonstrating the impressive energy savings that are possible
Enabling guidance as to the process specifications on scale-up, shortening commissioning times in the client's brewery
You may also be interested in
Submit a sample
For guidance on how and where to send samples, please see our sample guidance page
Brewing training courses
Explore our brewing related courses including; Brewing – an introduction and HACCP for craft brewers
Where we refer to UKAS Accreditation
The Campden BRI group companies listed below are both accredited in accordance with the recognised International Standard ISO17025:2017 by the United Kingdom Accreditation Service (UKAS). The accreditation demonstrates technical competence for a defined scope of methods, specific to each site, as detailed in the schedules of accreditation bearing the testing laboratory number. The schedules may be revised from time to time and reissued by UKAS. The most recent issue of the schedules are available from the UKAS website www.ukas.com
Campden BRI (Chipping Campden) Limited is a UKAS accredited testing laboratory No. 1079 Campden BRI (Nutfield) is a UKAS accredited testing laboratory No. 1207