Food and drink: practical application of technical excellence
We provide technical support to the food, drinks and allied industries. We serve 2,400+ member companies and other clients in 75+ countries. Find out more on our about us, page or visit our fb page.
Travelling to Campden BRI? Check our weather updates
Not a problem, our products and services are available to non-members (although members get discounted rates on services, products and training, and access to research, information and voting not available to non-members).
What's new in September

Research programme 2015
Request a copy email auto@campdenbri.co.uk with the subject line send RP2015.
Threat Assessment Critical Control Point
TACCP webinar by Richard Leathers available from our webinars page
Sensory Marketing
There is significant growing interest in the role of cross modal sensory experiences More.

Member interest group meetings
MIGs are open to all full members, If you haven't been before, why not give it a go?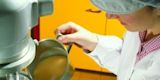 Different approaches to consumer and sensory studies can be integrated. Read more...
To ensure that you have access to the best regulatory and technical information we have significantly developed and enhanced our knowledge services Read more...

The journey from farm gate to plate can be a complex one, with many challenges along the way. Meeting these challenges is critical to the success of the entire supply chain. Read more...