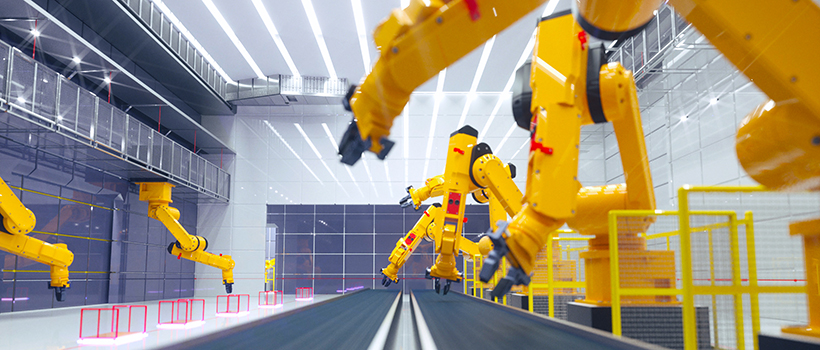 Member Event - Smart Manufacturing – Maximising the Opportunities from Industry 4.0
This event has finished.

Presentations available to download for members only. See programme to download presentations.
Summary
This event will focus on how food and drink business operators can maximise the opportunities and benefits of Industry 4.0.
Industry 4.0 digital solutions can provide more accurate process control, help improve efficiency and output, and prevent and eliminate errors. Through leveraging these solutions, food and drink business operators can produce better products through fully-integrated collaborative systems that respond in real-time to meet changing demands and conditions in a food factory.
Through presentations from Campden BRI and special guest speakers, the event programme will cover the challenges that Industry 4.0 solutions can address, approaches to implementing these solutions, and addressing common barriers. As well as presentations and discussions on how to leverage the benefits, you will also hear directly from businesses who have benefitted from implementing digital solutions.
There will be opportunities for valuable networking, tours of the site, and talking with specialists about any queries you have.
Who should attend
This is a member-only event for those looking to understand the latest funding opportunities. It will be well suited to R&D Managers and those in senior leadership roles.
Benefits of attending
Insights into maximising the opportunities from Industry 4.0 / smart manufacturing
On-site networking
Focussed agenda
Special guest presenters
Site tours
Provisional programme
Time
Presentation
09:30
Coffee, networking and optional site tours
10:30
Welcome and introduction
Wayne Martindale, Lincoln University
10:45
The UK food industry – could it be smarter? Where can digital innovation help?
Chris Needham, Innovate UK, UKRI

11:05
Digital technologies for sustainable food production
Alexander Bowler, University of Leeds

11:25
Coffee and networking
12:00
Industry 4.0? – a sustainable future is a collaborative and incentivised Industry 5.0
Tom Æ Hollands, Raynor Foods
12:20
Harnessing AI to optimise product quality and process efficiency?
Michael Adams, Campden BRI
Mike Adams will summarise 2 Innovate UK projects that Campden BRI have partnered in which have looked to use data analytics to optimise both bread dough mixing and powder blending.

Due to the complex nature of both of these processes, Smart Manufacturing techniques provide an opportunity to deliver a step change in efficiency and quality that may not be otherwise possible.

12:40
Lunch and networking
13:40
Smart manufacturing: barriers to adoption
Bhavnita Patel, Manufacturing Technologies Centre
In this presentation, the barriers for the adoption of smarter manufacturing in the Food and Drink Manufacturing sector will be discussed. Dr Patel will address the adoption of digitalisation and automation, including business priorities, navigating technology options and funding.

14:00
Robotics in the food industry
Simon Miles, ABB – Robotics in the Food industry, why use robots, justification, market and operational factors, applications, new emerging technology, breaking down the barriers to robot uptake, digital tools and AI potential.

14:20
Closing remarks
14:30
Coffee, networking and optional site tours
15:30
Event close
Speakers
Chris Needham, Innovation Lead, Innovate UK, UKRI
Having joined Innovate UK in 2018, in his current role, Chris is responsible for streams such as the Collaborative Research & Development (CR&D) projects within the Made Smarter Innovation portfolio. These comprise 70+ projects with a value of circa £120m spanning all manufacturing sectors – and all focussed on driving digital innovation to optimise UK Manufacturing and Supply Chains.
Prior to joining Innovate UK, Chris was employed in a variety of high precision manufacturing sectors including Automotive, Aerospace, Motorsport and Healthcare - as well as 10 years working for the Manufacturing Advisory Service (MAS) supporting SME's to develop, innovate and grow.
Alexander Bowler, Research Assistant, School of Food Science and Nutrition, University of Leeds
Alex is a research assistant in the School of Food Science and Nutrition at the University of Leeds working on the EATS (Enhancing Agri-Food Transparent Sustainability) EPSRC funded project. As part of this project, he is investigating open-source carbon footprint calculations, Bayesian optimisation of brewery processes, and real-time process optimisation using sensor measurements. He completed a PhD in 2022 at the University of Nottingham titled "Ultrasonic measurements and machine learning methods to monitor industrial processes" under Professor Nik Watson.
Tom Æ Hollands, Innovation and Technical Director, Raynor Foods
Tom Æ Hollands is the Innovation and Technical Director at Raynor Foods, he is also a Fellow of the IFST and previously one of its trustees. Tom is an accomplished Food Scientist who has worked in both government (Food Standards Agency) and the private sector. Tom is a true innovator at heart and has won many national and international accolades, in 2021 he was cited in The Manufacturers Top 100 as an Exemplar Innovation Leader for UK manufacturing.
Tom's innovations are focused on sustainability and meta food systems, their emerging technologies and the fascinating and complex links that join them.
Michael Adams, Campden BRI
Mike is the Product Innovation Lead, within the Consulting Technology Group at Campden BRI and joined the organisation in April 2016.
Mike studied for a BSc (Hons) in Microbiology at the University of Manchester, graduating in 2005. Since graduating, Mike has worked primarily within R&D and Technical roles for multinational FMCG organisations. Most recently he led the development of own label products for a major high street health and wellness retailer, specialising in spotting new trends in functional foods, sports nutrition and free from foods.
Mike's areas of interest include the linking of instrumental measurements to sensory profiling, the discovery of new functional ingredients and extending the shelf life of foods.
The Product Innovation team that Mike works in support a wide range of companies within the wider food and drink industry, providing innovation services, research, analysis and testing across a wide range of platforms from our state-of-the-art laboratories and pilot plant facilities.
Bhavnita Patel, Manufacturing Technologies Centre
Bhav is the Sector Development Manager for Agri-Food at the Manufacturing Technology Centre (MTC). With a decade of experience using science and technology to provide new insights for food manufacture, Bhav is eager to help the food and drink sector through the development of innovative technology to improve the agri-food supply chain.
Simon Miles, ABB
First 26 years in engineering R&D for the Agricultural, horticultural, Biotech and Food industries. 9 years Director – Engineering Design and Consultancy Company providing automation solutions for food manufacturers and system integrators across the food chain. 2015 helped set up the Systems Division for Wood PLC providing bespoke automation solutions across a diverse range of industries from automotive, renewable energy and pharmaceutical. Joined ABB Robotics UK 20 months ago responsible for technical sales of the complete ABB portfolio into the F&B and Consumer Industries, focused on providing robust end-user solutions.