Food hygiene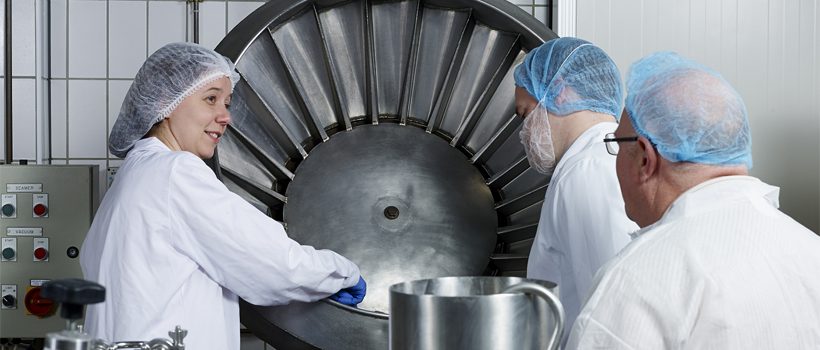 In order to ensure that food is safe and of high quality for the consumer, food processing areas have to be hygienically designed and properly cleaned and maintained. As the acknowledged leading experts in food hygiene, we can help you design your factory or food service area, and offer advice on the design of equipment within it, and how to arrange it!
But food factory hygiene is not just about factory structure, it is also about cleaning and disinfection, optimising air movements and training of personnel; all contribute to the ultimate goal - of maintaining a clean manufacturing environment and minimising the risks of food contamination. And we can evaluate scenarios involving real microorganisms in our Microbiology Process Hall.
We offer the optimum combination of scientific expertise and food and drink factory experience, to deliver cutting edge services to industry. These are all supported by our portfolio of food hygiene guidelines, which detail good hygiene practices and factory design.
And we also help in other ways - as an independent cleaning chemical and disinfectant testing centre, and in undertaking factory sampling and audits. We are also involved in a food safety culture initiative with Taylor Shannon International and run a wide range of hygiene training courses.
Hygiene training courses
Explore our hygiene related courses including; Allergen control and Food processing hygiene management
Are you getting the most from your Membership?
Watch our membership FAQ videos and find out more about Member Service Account spending, Member Interest Groups, help and advice
Where we refer to UKAS Accreditation
The Campden BRI group companies listed below are both accredited in accordance with the recognised International Standard ISO17025:2017 by the United Kingdom Accreditation Service (UKAS). The accreditation demonstrates technical competence for a defined scope of methods, specific to each site, as detailed in the schedules of accreditation bearing the testing laboratory number. The schedules may be revised from time to time and reissued by UKAS. The most recent issue of the schedules are available from the UKAS website www.ukas.com
Campden BRI (Chipping Campden) Limited is a UKAS accredited testing laboratory No. 1079 Campden BRI (Nutfield) is a UKAS accredited testing laboratory No. 1207