Food chemistry and biochemistry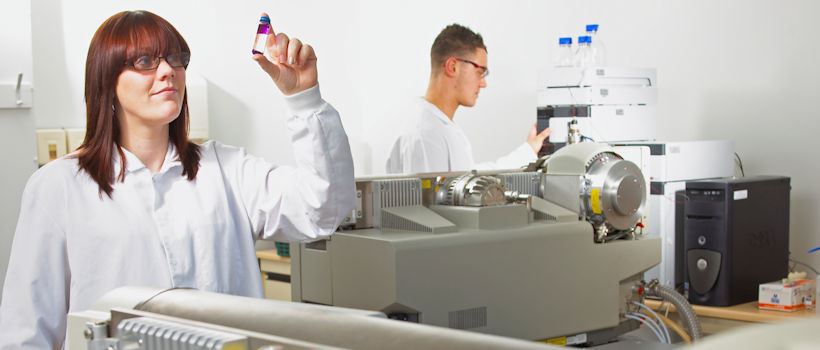 All food is made up of chemicals - and you need to know what significant chemicals are in your products and how they will affect the nature of the food, its response to processing and its shelf life - the chemistry of food often has a significant bearing on food quality and spoilage.
With extensive knowledge and understanding of all aspects of food chemistry and biochemistry, Campden BRI is ideally placed to help you with whatever issues you face, from demonstrating that the food is what it says it is, through understanding nutrient content and the components that make it taste good - or bad - to detecting natural toxins and allergens and contaminants, such as pesticides and packaging migrants.
For those companies with in-house chemical testing facilities, we can offer advice on which methods to use, as well as on laboratory design, with accreditation available through CLAS, the Campden Laboratory Accreditation Scheme.
Food analysis and testing
Explore our analysis and testing related courses including; calculating meat content and wine analysis
Are you getting the most from your Membership?
Watch our membership FAQ videos and find out more about Member Service Account spending, Member Interest Groups, help and advice
Where we refer to UKAS Accreditation
The Campden BRI group companies listed below are both accredited in accordance with the recognised International Standard ISO17025:2017 by the United Kingdom Accreditation Service (UKAS). The accreditation demonstrates technical competence for a defined scope of methods, specific to each site, as detailed in the schedules of accreditation bearing the testing laboratory number. The schedules may be revised from time to time and reissued by UKAS. The most recent issue of the schedules are available from the UKAS website www.ukas.com
Campden BRI (Chipping Campden) Limited is a UKAS accredited testing laboratory No. 1079 Campden BRI (Nutfield) is a UKAS accredited testing laboratory No. 1207