Thermal processing services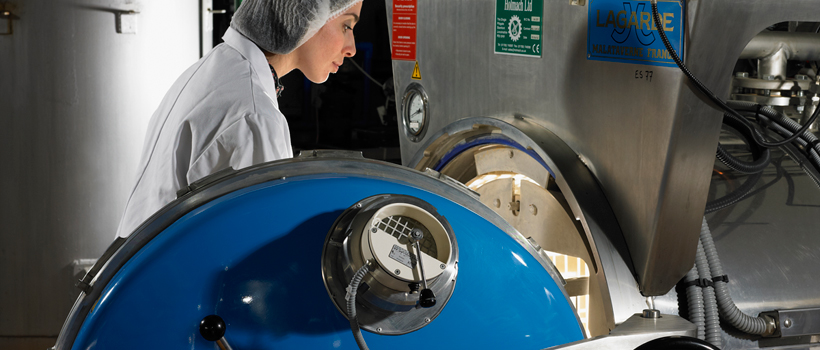 Campden BRI offers professional support to ensure your thermal processes consistently produce safe products. For over 100 years we've been at the forefront of food and drink thermal processing. Our team holds extensive experience in supporting processors within the UK and around the world regularly working with some of the world's largest food and drinks companies so when you come to us, you know you are in safe hands. Our thermal processing team at Campden BRI can support you in three ways.
To ensure thermal processes are effective, repeatable and consistently produce safe products, our experienced technologists can use a range of methods to undertake third-party thermal process validation work at manufacturers' sites. Using specialist equipment, we follow robust protocols to ensure our conclusions are accurate and outcomes are clear. You won't find a better value service elsewhere.
As a thermal process authority, we have the expertise to support manufacturers with third-party process reviews – for example, FDA process filling for the US market and other consultancy services. We can complete much of this work remotely to confirm that existing processing is sufficient or explore process optimisation opportunities.
Our thermal processing team runs a variety of scheduled thermal processing training courses which includes both generalised or sector specific, online or face-to-face sessions. We also offer tailored training courses that are designed specifically for your organisation, whether you are a manufacturer, retailer or accreditation body.
Please get in touch to request a validation quote or any other thermal processing related service. Don't worry if you are not sure what the appropriate service is, our friendly team are here to help and can work with you to put together a proposal.
We guarantee a high quality service at competitive price.
Key contact
David Whittaker is the Process Innovation department manager at Campden BRI and a Thermal Processing specialist.
Thermal processing training courses
Explore our Thermal processing related courses including; Thermal processing and validation and Thermal processing - continuous flow, live online tutor-led course
Are you getting the most from your Membership?
Watch our membership FAQ videos and find out more about Member Service Account spending, Member Interest Groups, help and advice
Where we refer to UKAS Accreditation
The Campden BRI group companies listed below are both accredited in accordance with the recognised International Standard ISO17025:2017 by the United Kingdom Accreditation Service (UKAS). The accreditation demonstrates technical competence for a defined scope of methods, specific to each site, as detailed in the schedules of accreditation bearing the testing laboratory number. The schedules may be revised from time to time and reissued by UKAS. The most recent issue of the schedules are available from the UKAS website www.ukas.com
Campden BRI (Chipping Campden) Limited is a UKAS accredited testing laboratory No. 1079 Campden BRI (Nutfield) is a UKAS accredited testing laboratory No. 1207