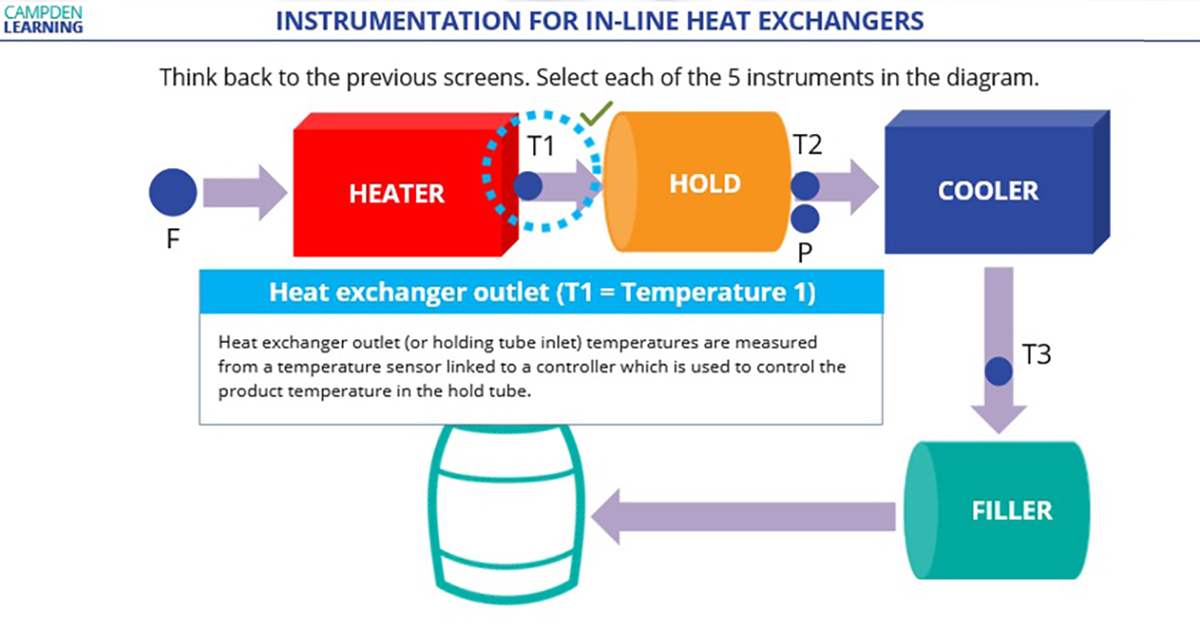 Thermal Processing - Foundation (On Demand E-learning)

Member: £450
+ VAT


Non-member: £499

+ VAT
Group discounts available on request. Contact Training
To view a demo of our On Demand platform, fill in the form below and we'll send you a link.
About this course
Campden Learning's On Demand E-learning thermal processing course provides a comprehensive and engaging introduction to this topic. Through a range of interactive modules, broken down into bitesize sessions, learners cover the key areas to consider during the manufacturing of safe heat preserved foods, and how to control the important processing steps involved.
Topics include
An introduction to thermal processing
Microbiology in the content of thermal processing
Micro heat resistance
Equipment for both continuous flow and in-pack processing
Process values; process deviations; and process establishment
As pioneers in the development of thermal processing knowledge Campden BRI are proud to launch this innovative online course, with all content overseen by our experienced technical experts. Using a mix of graphics and images, audio and videos, interactive activities, and the use of questions and knowledge checks to deliver information in a clear and engaging way to reinforce learning.
Who is the course aimed at?
The course content is essential learning for retort and process operators; quality assurance managers, technical managers, technical directors, export/import roles, auditors of thermal processing operations, retailer technologists, equipment suppliers, sales and marketing functions, and undergraduate/post graduate students who would like to find out more about this topic.
Taking the course will contribute to your continuous professional development, demonstrating your commitment to lifelong learning.
Will I receive certification for completing the course?
On completion of all 8 modules, participants will be able to download a Campden BRI accredited Campden Learning certificate for the course. Modules are unlocked as you work through the course until all 8 are completed. Each module concludes with a knowledge check which you will need to pass to unlock the next module.
Subject Matter Experts
David Whittaker / Gary Tucker
On Demand E-learning useful information
Once purchased the specified learner will have access to the content for a period of 4 months – note access is granted to a dedicated learner and cannot be transferred to another learner once it has been logged into.
Content is accessed via the Campden Learning – Brightspace learning management system; log-in details will be issued on processing of payment.
Non-members are required to pay online; members can pay online or opt to pay by invoice.
Content can be accessed on computers, laptops, tablets, and phones – please check the frequently asked questions for details on supported browsers.
Learners can access at any time and their progress will be saved as they work through the content.
The content uses audio and does not include subtitles of the audio on screen.
What do the modules cover?
The modules vary in length with the average being around an hour, if all modules were completed in one sitting it would take approximately a day.
The 8 modules of the course are:
Introduction to thermal processing
7 sessions covering: what is thermal processing; sterilisation vs pasteurisation; processing targets; hermetic packaging; training design; knowledge check; and a module summary.
Introduction to microbiology
8 sessions covering: top 5 Microorganisms; brief history of microbiology; yeast, mould, and bacteria; microorganism growth stages; environmental factors; sources of microorganisms; knowledge check; and a module summary.
Micro heat resistance
8 sessions covering: introduction; log reduction; the D value; thermal process target; the z value; lab process for D and z values; knowledge check; and a module summary.
Continuous flow processing equipment
6 sessions covering: background; direct heat exchangers; indirect heat exchangers; instrumentation; knowledge check; and a module summary.
In-pack processing equipment
7 sessions covering: background; batch retorts; retort agitation modification; continuous in-pack retorting; instrumentation; knowledge check; and a module summary.
Process Values
7 sessions covering: the target process value; P and F calculations; lethal rates; time intervals and P/F values; safety margins; knowledge check; and a module summary.
Process Establishment
8 sessions covering: target times and temperatures; temperature distribution; heat penetration testing; process values; safety margins; scheduled process; knowledge check; and a module summary
Process Deviations
8 sessions covering: types of spoilage; process deviations defined; historical process deviations; options for deviation batches; analysis options; knowledge check; and a module summary
What learning outcomes should I expect?
Gain an understanding of the basic concepts which underpin thermal processing.
Know which microorganisms are relevant to heat preserved foods.
How the thermal processes targets used in factories are derived.
The continuous flow and in-pack processing equipment required to safely deliver heat preserved foods.
How to set a target process value, and check that it has been achieved.
Awareness of process deviations and how to manage them.
Knowledge of the validation processes for processing equipment.
Company Training Lead feedback on Thermal Processing - Foundation (On Demand E-learning):
A number of staff from each of the following companies completed the Thermal Processing - Foundation (On Demand E-learning) as part of our review process – the lead for each company has provided the following feedback:
"Thermal processing of food and beverages to ensure food safety and shelf-life stability is a complex subject matter. This introductory E-learning from Campden BRI covers the key topics in a clear, concise, engaging manner, utilising a combination of presentations, videos, and knowledge checks to ensure that the participant has a clear understanding of thermal processing after the training.

I would recommend this training package to anyone new to thermal processing or wanting to expand their knowledge abut this key food safety process"

- Rob Wharton, Food Safety Expert, Nestle UK & Ireland
"The course fully met my learning expectations. It was a thorough overview of thermal process from product attributes to equipment settings to the controls throughout that ensure safe product. The E-learning was organized in a clear, logical manner and was easy to navigate. Campden BRI structured the course really well by using specific, globally-relatable products and incidents to illustrate the thermal process from product development to finished product shipment. The E-learning prompts and quizzes helped keep the content engaging and enjoyable. What I liked most about the course is that it gave a high level overview while also detailing descriptions of the fundamentals of thermal process. I would recommend this course for employees in product development, supply chain, quality and regulatory so they can each see their role in ensuring product safety"

- Annie Ellerman, Global Quality & Regulatory Organizational Effectiveness Leader, McCormick Global
"Great introductory course for those new to Thermal Processing and refresher for those who want to brush up on their existing thermal knowledge or have not been in the industry for a while. Suitable for Technologists, Engineers and Operation teams to understand the principles and importance of "getting it right".
Interactive and easy to follow course, with helpful knowledge check quizzes, which is integrated into the modules. A must for understanding the principles of Thermal Processing in the food and drinks industry"

- Claire Durrant, Divisional Technical Controller, 2 Sisters Food Group
Learner feedback on Thermal Processing - Foundation (On Demand E-learning):
"Having worked in the industry for some time, this was a great tool to support my industry knowledge with more detailed and evidence based information"
"It went in-depth, without being convoluted and boring. Also, use of examples to concretize concepts"
"It felt very interactive considering it is an online course, I also liked the frequent question asking"
"Really enjoyed this course, found it very helpful, it has made information/terminology used in meetings and reports much clearer"
"Course was very interesting and easy to navigate. Having real examples of when things have gone wrong helped to realise the importance of getting it right"
"Complete course with all the fundamental indications! Topics illustrated in an easy way with focus on important concepts"
"Great foundation to everyone who needs to understand more about thermal processing, good aid for R&D and process engineers"
"Very useful and well explained training! A lot of examples and questions to assess our understanding!"