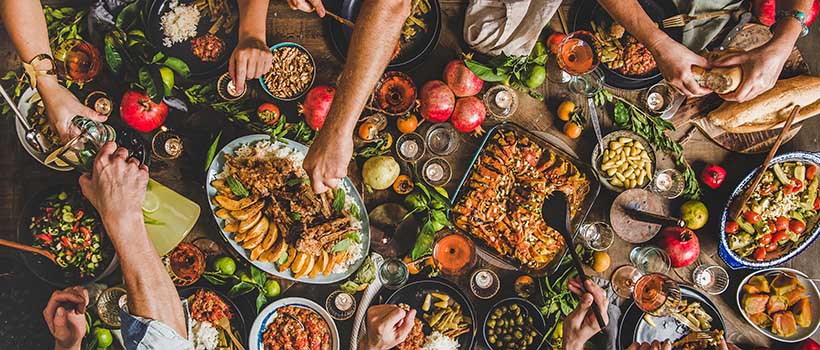 Five drivers impacting global food safety
15 June 2022
Food is kept safe by the collective efforts of all the players in the global food supply chain: national authorities by establishing relevant guidelines and standards, food producers by adopting good practices, business operators by complying with regulations and consumers by being aware of safe food handling practices. As systems evolve to respond to various challenges, food safety needs to keep pace with them.
To anticipate future concerns rather than react to them, Campden BRI has analysed emerging trends and drivers that will impact the future of food safety. To help you better prepare to tackle emerging opportunities and challenges, here are our top five.
1. Climate change
According to a recent publication from the Food and Agriculture Organization of the United Nations (FAO) , climate changes can have a direct impact on food safety hazards by altering their virulence, occurrence and distribution.
Climatic changes threaten food safety in many ways. Here are just a few:
direct effects on pathogen growth and survival
distribution of harmful algal blooms
faecal contamination of crops due to increased flooding
climate-related water scarcity and its impact on hygiene and sanitation.
2. Plastic packaging in a circular economy
The circular economy can decouple plastics from fossil fuel feedstocks and find ways to sustainably produce plastics, repurpose plastic waste and manage plastic pollution. However, a circular economy can only work if the product created using recycled materials is safe and regulatory compliant.
If the closed loop is not adequately assessed and controlled, there are potential risks for the introduction or re-introduction and concentration of food safety hazards in foods and beverages. Hazards include derivates from printing inks, coatings adhesives, secondary packaging or non-food grade polymers entering the recycling process for food-grade materials.
3. Food fraud
Food fraud has been around since ancient Greek and Roman times but is currently experiencing a rapid increase due to food shortages, the complex global supply chain and pressure on suppliers to reduce prices. Deception can take forms as diverse as the smuggling of goods across borders to avoid duties and tariffs, falsification of paperwork to misrepresent the special status of food, such as 'organic' or 'kosher', switching one species for another or adding undeclared substances to foods. While many types of food fraud do not always pose direct risks to food safety, when food is adulterated or otherwise modified, processed or (re-)packed fraudulently, the result is a product that presents significant risks to the health and well-being of consumers. The risks for consumers can include acute chemical poisoning, allergen-mediated reactions, chronic poisoning and illnesses from pathogens introduced during the adulteration process. Despite technological advancements in communication, analytics and value-chain traceability, there are currently no easy solutions for this complex problem.
4. Food consumption patterns of consumers
As consumers become more aware of the challenges facing the food system, a growing number are paying attention to how food is produced, where it comes from and whether it is good for their health and the planet. This is propelling the exploration of new food sources and different ways of producing it, such as edible insects and plant-based meat alternatives.
Traditional food and processing techniques have extensive safety data, shelf-life studies and predictive models for food protection. The same cannot be said for novel foods and new food processing methods, so it is important to determine any potential food safety risks such as the introduction of allergens into the diet, chemical hazards arising from processing or antinutrients.
5. Urban and peri-urban agriculture
From aquaponic greenhouses on city rooftops to permaculture, we are witnessing far-reaching alterations in the way food is grown. While the positive economic, social and environmental impacts of urban and peri-urban agriculture are widely reported, there are numerous factors to take into account when mapping the food safety risks to which this agriculture can be exposed. Risks can range from soil contamination, air pollution, use of urban wastewater that is untreated or improperly treated to the type of crop used, as they are not all equally sensitive to soil or air pollution.
Food for thought
As the transformation in the way we produce, distribute and consume food continues, there is a need for effective and proactive food safety management that keeps pace with the changing global context. At the same time, it is important for risk assessment processes to keep pace with scientific progress, to continue guiding the development of relevant and reliable food safety policies, including for emerging issues such as new food sources.
At Campden BRI, we stay abreast of the latest advancements by working not only with the entire food and drink supply chain but also by cooperating with a broad network of external partners such as academic and research institutions and national authorities.
As science evolves, we help the food and drink industry to navigate the opportunities and challenges presented by the issues outlined above. We enable the companies we work with to be resilient, agile and strategically prepared through long-term thinking.
Contact us today for a free, initial discussion, around how we can support you and your business through these challenges.
How can we help you?
If you'd like to find out more about global food safety, contact our support team to find out how we can help.
Are you a Campden BRI member who attends the MIG meetings?
- If not, you're missing out on a whole host of exclusive benefits such as learning from industry-leading experts and networking with peers to overcome your challenges.