Can we assume consumers' fridges are at a safe temperature?
By Linda Everis - April 2020
Current UK Food Standards Agency guidance is that chilled foods should be stored at 5°C throughout life even though the legal maximum temperature for chill in the UK is 8°C. A new guidance document, that considers chilled storage temperature, has been developed to further help the food industry set realistic and accurate shelf-lives that maintain product quality and safety.
Food manufacturers understand that their responsibility for the safety and quality of a food extends to the entire life of a product and doesn't end when it leaves their control. They have to consider storage temperatures during distribution, retail and handling by consumers, which prompts them to ask questions such as: "What temperatures will the product be stored at during purchase and in the customer's fridge?"
This is a difficult question to answer. From manufacture to consumer storage, products can encounter a range of fluctuating temperatures as they are passed from one stage of the cold chain to the next. As mentioned above, when it comes to considering what might reasonably happen to food once it has left the commercially controlled environment, producers must consider potential temperature abuse from consumer handling. This is a requirement under the Consumer Rights Act 2015 and has been reasserted in Food and Drink Federation 2017 guidance. For example, when labelling a product to be stored at below 5°C, is it reasonable to assume that it will be stored below 5°C throughout all of its life, or will some of its life be spent at higher temperatures? Answering this question is key as it will have a huge impact on the quality of the product as seen by the consumer.
A product's journey to consumer's home
Perhaps 'warm' isn't the first word that pops into your head when you think about the British weather, but even when icepacks and cool boxes are used, the temperature of chilled food products can rise quickly when outside of a 5°C fridge. Well-controlled chilled transport is used when delivering chilled products from producers to distribution centres and onto retailers, but the product's remaining journey from the retailer to the consumer's home is usually not under cool conditions. As time spent out of the fridge is one of the primary factors that determine how much a product rises in temperature, we must ask how long it takes consumers to get their food and drinks home.
In 2010, as part of a survey of 329 households, WRAP (Waste & Resources Action Programme) revealed 45% of participants estimated the time from completing the main shop to unpacking was around 30 minutes, with 23% stating this was 30 minutes to one hour. In addition to the time taken to transport shopping home, there is also the time in-store when chilled foods may sit in a shopping trolley whilst the remainder of the shopping is completed, and how about the time it spends sitting on the kitchen counter? It all adds up. Based on these findings, it is assumed that a period of two hours at 22˚C is representative of typical consumer practice when purchasing and transporting chilled foods into the home.
In the consumer's fridge
Assuming some worst-case scenarios, say a food product did reach 20°C, how long would it take to return to 5°C? WRAP's 2010 survey also looked at this question by assessing the time taken for products to return to 5°C after two hours at warmer conditions. Several conditions and times were tested in a number of product types, including sliced ham that was exposed to an hour at 20°C followed by another hour at 30°C while in a standard plastic bag. Once placed in a 5°C refrigerator, the survey found this product was still at the elevated temperature of 10.5°C five hours later.
The time it takes for food to cool isn't common knowledge, so building the assumption that food is almost instantly safe (at 5°C) once placed in the fridge is an easy one for consumers to make. This, however, lulls them into a false sense of security and highlights the need for further education surrounding this area. WRAP is running a 'Chill the Fridge Out' campaign to educate the public on the need to lower fridge temperatures which will help with this issue, even though the campaign's primary focus is to reduce food waste.
Are consumers' fridges at a safe temperature?
In 2010, WRAP asked consumers what they thought that the correct fridge temperature should be. Seventy-nine per cent of 329 participants surveyed stated that the temperature should be between 0°C and 5°C. This sounds like great news as it maps perfectly on to industry assumptions and practice. WRAP then surveyed the actual temperatures of 50 consumers' refrigerators over a four-day period. Only 29% operated at 5°C or less whilst 71% operated at 8°C or less. Eight years on, in 2018, we (Campden BRI) undertook a similar test of 35 fridges over 30 days. The results showed that 53% of them showed readings above 5°C and a further 16% were above 8°C.
These investigations highlight that whilst consumers are aware of what the temperatures should be, this doesn't translate into reality. Let's face it, many fridges do not have a display – digital or non-digital - and how many consumers have thermometers in their fridges to check that they are working correctly?
Generating this type of data at each point of the cold chain, including consumer handling, allows us to better predict the conditions that products experience up until the point of consumption. This, in turn, allows us to put together appropriate shelf-life protocols. Our recently updated shelf-life determination guidance, that is backed by expert advice and practical shelf-life assessment, has been aligned with new EU regulation and recommendations for setting a shelf-life. The new guidance, which has been extended beyond chilled foods to include ambient stored foods, is now available.
This article will soon be published in Baking Europe.
Linda Everis, Principal Research Officer
+44(0)1386 842063
linda.everis@campdenbri.co.uk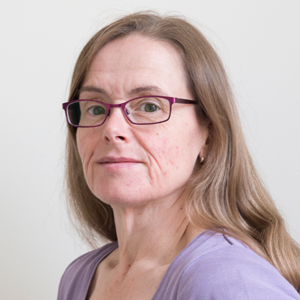 Linda Everis joined Campden BRI in 1995 as a Senior Technician in the Microbiological Analytical Services group having graduated from the University of Wales Aberystwyth with a BSc in Biology.