Physics in food manufacturing
By Martin Whitworth - 1 November 2018
Food and drink make up the largest manufacturing sector in the UK, accounting for 19% of manufacturing turnover. Members and clients of Campden BRI are aware of the vital role that science and technology play in supporting this sector. This includes familiar disciplines such as chemical engineering, microbiology and analytical chemistry.
With a background in physics, I recognise the value that physicists can also bring to our industry. I am therefore pleased to be involved with an initiative from the Institute of Physics (IOP) that recognises the food industry as an important sector in which many of its members work, and where physics can deliver benefits.
Following a consultation exercise in 2016, the IOP published a report on The Health of Physics in UK Food Manufacturing. This highlighted areas - such as soft matter physics, materials and characterisation, instrumentation, measurement and imaging, thermodynamics, modelling, fluid mechanics and rheology - as just some of the physics disciplines important to food manufacturing.
The report was followed by an issue of the IOP magazine, Physics World, devoted to Physics of Food, including articles on characterisation and modelling of foods, application of soft-matter physics to design functional foods for satiety, control of chocolate rheology with electric fields to enable fat reduction, applications of physics in crisp manufacture, and the role of sound in food appreciation.
The ability of physics to deliver benefits for food manufacturing was highlighted by the award this year of a prestigious Institute of Physics Innovation Award to PepsiCo "for the development of breakthrough snack products through application of soft matter physics".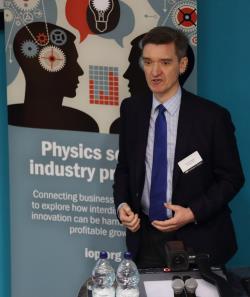 A key activity of the IOP Physics in Food Manufacturing group has been the organisation of an annual two-day conference, showcasing a diverse range of work from industry and academia. The first Topical Research Meeting on Physics in Food Manufacturing took place in January 2017, at which I presented Campden BRI's work on mechanisms of bubble structure formation in bread and cakes.
This was followed by another well-attended conference in Edinburgh in January 2018.
Campden BRI is therefore delighted to have been chosen as the venue for the 2019 Physics in Food Manufacturing conference, which will take place on 9-10 January 2019. A distinguished line-up of keynote speakers will cover sessions on:
Nutrition and Physics
Physics of Food Microstructure
Physical Measurement of Foods, and
Physical Modelling of Foods
Abstracts are also invited for presentations or posters and exhibitors are welcome. The conference will include a careers panel discussion and we hope that a future generation of physicists will be encouraged to pursue research and careers in our industry as I have been fortunate to do.
You can find out more about the conference here.
Martin Whitworth, Principal Scientist
+44(0)1386 842139
Martin Whitworth
Martin Whitworth is a Principal Scientist in Campden BRI's Product Innovation team. He has an MA and PhD in physics from Cambridge University, is a member of the Institute of Physics and a Chartered Physicist.