G81 Demonstrating control of Listeria in ready-to-eat (RTE) foods. Listeria control: how should you approach it?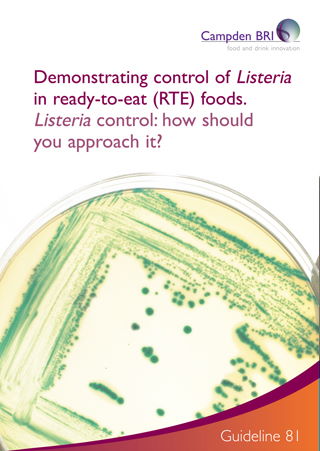 1st edition (2022)
ISBN 978-0-907503-98-9
Listeria as a bacterial genus contains several species, however, only one is known to be pathogenic to humans and of real concern to food, dairy, and beverage processors - Listeria monocytogenes.

The presence of Listeria monocytogenes in food products may give rise to consumer safety concerns and the risks presented to vulnerable customers cannot be overstated. There are legal requirements throughout the UK and the European Union (EU) regarding its presence of L. monocytogenes, and detailing three food safety criteria, in ready-to-eat (RTE) foods.

There are a number of options to understand how Listeria monocytogenes behaves in a product.

This document explains the various sources of data available to food businesses (historic data, challenge test data, durability data and predictive modelling) and how these can be used in demonstrating control of Listeria monocytogenes. In addition six case studies, covering a variety of food types, are provided demonstrating the outcome and interpretation of the different approaches.

Guideline 79 Practical control of Listeria in food production considers how the food industry can attempt to control Listeria in the food production environment may also be of interest.
Format: Digital (PDF) or hardcopy
£100 - Members
£145 - Non-members