Review 23 Technologies to extend the mould-free shelf-life of baked goods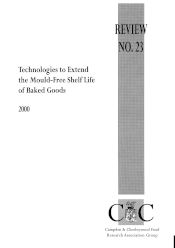 1st edition (2000)
ISBN
Understand the basis of microbiological spoilage of baked goods and identify technologies available to extend their mould-free shelf-life

After a general introduction on the nature and types of spoilage it reviews specific aspects of controlling microbial spoilage, such as: the role and effects of water activity, pH and 'chemical' preservatives; the potential of harnessing the anti-microbial properties of essential oils; the pros and cons of using modified atmosphere packaging systems; and options for using in-pack thermal treatment, ionising radiation, pulsed light and UV light and systems for predicting fungal growth.

The conclusions section reflects that all the technologies have the potential to extend mould-free shelf-life but also emphasises that, as each technology has accompanying disadvantages, the final choice is likely to take account of technical, commercial and marketing constraints. The review also lists over 80 references to source material and further reading.
Format: Digital (PDF) only
£25 - Members
£35 - Non-members