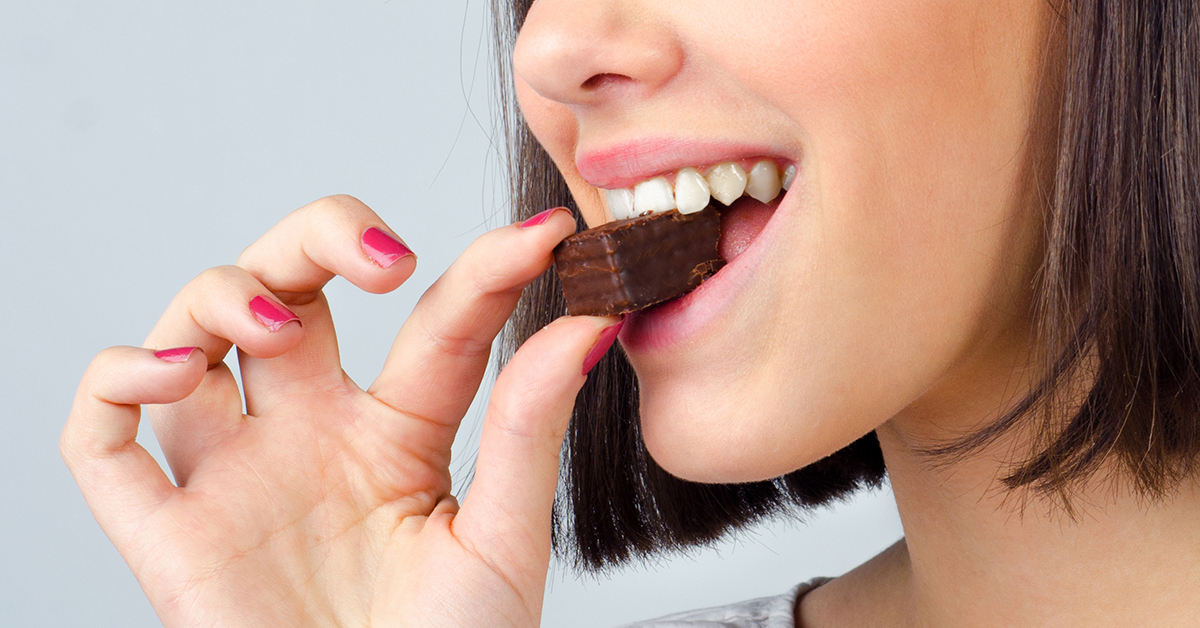 The power of using time-based sensory mapping with consumers to characterise your product
18 October 2023 | Sarah Thomas, Consumer Insights Manager, and Marleen Chambault, Sensory and Consumer Research Scientist
Time-based sensory mapping with consumers
Time-based sensory mapping with consumers is a really useful way to characterise, in detail, the in-mouth consumer experience of your products. We are increasingly using time-based sensory mapping to obtain detailed sensory feedback on what consumers perceive during food and drink consumption. It is particularly well suited to supporting product renovation and innovation, among other applications that we will explore in this blog.
The technical method used for time-based sensory mapping is 'TCATA', which stands for 'temporal check-all-that-apply'. 'Temporal' is the key word here, as this method looks at the timing of in-mouth consumer perceptions during the eating experience. It allows you to determine when the different sensations are delivered by your product, and how the consumer experience changes throughout the eating journey.
For example,
Does your competitor's product have a more desirable initial 'bite'? Or upfront burst of flavour?
Is the texture positively received throughout the entire eating experience?
Is there an aftertaste that consumers do not like?
How TCATA works
The TCATA method can be used with consumers or trained sensory assessors, depending on your study objectives. When used with consumers, we would typically recommend that a minimum of 120 participants complete an assessment of up to six samples during a one hour session.
Consumers receive a thorough initial brief based on the method, tasting protocol and sensory attributes being used, which are generated and defined by our trained sensory panel. A 'dummy' sample is also used to check the participants' understanding of the approach.
Consumers select and un-select the attributes that they perceive from the moment they take a first bite or sip to the moment they swallow and beyond – thereby capturing flavour, aftertaste and mouthfeel. This builds up a time-based sensory map, which characterises the product and provides a really useful depth of valuable information.
After the TCATA task, consumers also indicate how much they like the samples, as well as how likely they would be to purchase them.
For more information on TCATA, our members can watch an insightful Member Interest Group (MIG) presentation on TCATA and the opportunities it presents for product development, and can also read the R&D report on two research case studies into characterising food products using TCATA.
The information and benefits from time-based sensory mapping with consumers, using TCATA
Time-based sensory mapping can be used with consumers to evaluate both food and drink products to help technical, NPD and marketing teams understand their products better. Its outputs describe the flavour and/or texture / mouthfeel of products before and/or after swallowing. It is particularly relevant for the characterisation of complex products, e.g. multi-component or multi-layered products.
As well as guiding product development, renovation and innovation, the results from a time-based sensory mapping study with consumers can be used in written (e.g. product specifications and on-pack product descriptions) and verbal (e.g. advertising material) communications.
Time-based sensory mapping with consumers is perfect for businesses that want to understand:
The complete in-mouth experience of their product - including the evolution of sensory characteristics over time and how they interact with one another.
The impact of recipe / process changes.
How to improve the eating / drinking experience.
'Off notes' – whether they are present, what they are, when they are perceived and how long for.
The differences between similar products with evolving, complex sensory characteristics.
How to match or differentiate their product from others – checking whether two samples display similar characteristics (not only overall, but also throughout consumption).
Differences in liking / why some products do or do not perform well in terms of liking – by examining the dynamic aspects of the sensory properties.
Sometimes products perform similarly in terms of liking, but display different sensory characteristics during consumption (i.e. overall characteristics may be similar, but their sequences and durations may differ). TCATA enables practitioners to unpick sample differences more.
When liking data on the same samples is available, the statistical analysis of TCATA data enables the temporal sensory drivers of liking to be identified. This makes it possible to identify (at each moment in time / during consumption) which sensory attributes significantly increase or decrease consumer liking – as well as to what extent and for how long (e.g. "between 5 and 10 seconds after intake, perceived flavour 'X' significantly increases level of liking, whilst sourness perceived around 20 seconds significantly decreases consumer liking").
Applications of time-based sensory mapping with consumers
The information from conducting time-based sensory mapping with consumers can be used to guide projects such as:
New product development, renovation and innovation (e.g. to help understand and improve how a new product delivers the different in-mouth sensory characteristics)
Product optimisation and validation (e.g. to improve or check how the different in-mouth sensations are being delivered)
Matching flavour or texture profiles / product matching (where taking 'temporality' into account is essential)
Shelf-life testing (e.g. to check whether an 'aged' product features similar temporal sensory characteristics than a fresh product)
Product reformulation (e.g. salt or sugar reduction, MSG removal, or any formulation changes – to assess the impact of change(s) on flavour / texture / aftertaste delivery)
We can help you leverage valuable insights from time-based sensory mapping with consumers
Whether you are developing a new product or optimising an existing one, success or failure of a product will ultimately depend on what consumers think of it, so it is essential to understand the consumer response in detail when embarking on a product innovation or product optimisation programme.
Our experts have a wide range of quantitative and qualitative methods available to explore consumers' expectations and experiences. No matter what our client's challenges may be, we consistently deliver innovative solutions, helping them into a much better position to conquer their market.
If you are facing a challenge where results from consumer research would unlock the puzzle and present the way forward, then our Consumer Insights team can help. Contact us for more information on how time-based sensory mapping can be used to improve your products.
Sarah is an experienced consumer insights practitioner, whose background in qualitative research provides a skill set that is sensitive to understanding the complexities of individuals' thoughts, feelings, and behaviours.
Marleen holds a Food Science Engineer diploma (equivalent to a Master's Degree) in Agri-food Business and Management (with a strong emphasis on food ingredients, food processing and statistics) from Agrocampus Ouest, Rennes, France.
How can we help you?
If you want to find out more about time-based sensory mapping with consumers, contact our support team to find out how we can help.
More on consumer insights
For more information on time-based sensory mapping and other consumer insights services, visit our service pages.