Fish, seafood and its preservation: How can we extend shelf-lives?
26 February 2021 | Greg Jones, Microbiology Training Specialist
In 2011, WRAP estimated that 1.2% of fishery produce was wasted. On paper this doesn't sound like much, but the cost of this to retailers alone racked up to £12 million. Further still, around 43,000 tonnes of fish and shellfish are discarded in households each year - around 74% of this is wasted purely because fish is not frozen or consumed before the end of the use-by date.
As you'd expect, extending the shelf-life of fish and seafood has always been a challenge. The delicate nature of the product combined with its rapid sensory deterioration means that preservation methods ideally need to be gentle and applied at the very moment the catch is pulled from the water.
Preserving fish and seafood
The obvious first preservation method is the use of ice and refrigeration to chill the flesh to just above freezing point - delivering a shelf-life long enough for the product to reach retailers in a suitable condition. Though simple, this first method of preservation is highly effective and maintains the product's quality to a level that provides consumers with a few days of shelf-life. It's at this point that the product's shelf-life can be greatly extended if the consumer decides to freeze it before it's use-by date.
Freezing stops the growth of spoilage organisms, which makes it the best way to prolong the shelf-life of a fish or seafood product. However, there is a catch. It goes without saying that once the product is defrosted, the spoilage process re-starts, but there's also an issue with quality. With this in mind it's easy to see how evaluating shelf-life is such a complex task, hence why we developed guidance to help manufacturers with this issue. Many products suffer from quality losses due to the relatively slow domestic freezing process, and fish are particularly vulnerable.

Why does fish spoil?
The primary cause of spoilage is the growth of bacteria on the fish's flesh. These microorganisms will grow and produce trimethylamine (TMA) and other volatile chemicals – the culprits of that 'fishy' smell that spoiling fish and seafood give off. To extend the shelf-life of fish we must first understand this product's microbiology. We begin this by taking a closer look at its microflora: the community of bacteria that exist on or inside an organism.
The natural microflora of fish is influenced by the conditions in which the fish live. For example, fish caught in the Baltic Sea will have a higher proportion of silt-related organisms in their microflora than a similar fish caught in the less landlocked North Atlantic. This is especially true when you consider the huge variability in seafood's microbial counts and microflora composition that is seen even between catches.
Microbial limits to determine shelf-life
Why is all this important? Safety tests must always take microflora into account. However, when it comes to quality, we're starting to see some room for manoeuvre – potentially enough to save producers and retailers millions of pounds in wasted food by extending shelf-life by a day or more. Currently, the majority of retailers apply microbiological specifications, as indicators of quality, to the raw seafood that they source from their suppliers. The argument is that using microbial limits to describe the end of shelf-life is not the most accurate way to determine the end of shelf-life for fish and seafood from a quality perspective.
If we take the fish spoilage organism Photobacterium phosphoreum as an example, we can see how a microbial count could be potentially misleading. This organism is adapted to grow at cold temperatures and requires delicate specialised techniques and media to achieve an accurate count. This is rarely stipulated in a microbial specification, which will typically list limits for Total Viable Count (TVC), Enterobacteriaceae and perhaps Pseudomonas spp. Therefore, this organism is usually missed in the TVC.
Feedback from producers suggests that the upper limits in these specifications are currently set too low to take account of the natural levels of microflora (in fish and seafood) and can potentially be exceeded even at the very start of shelf-life, despite the food being safe and organoleptically acceptable. This suggests that the natural flora of seafood may already be at a higher level than that permitted by the specifications.
New research to extend fish and seafood shelf-life
As highlighted, when it comes to shelf-life, fish and seafood are renowned for being highly-perishable. But it's still quite possible that current rejection thresholds for levels of microorganisms are set unrealistically low, leading to significant wastage and cost. Our team at Campden BRI has recently begun microbiological, chemical and sensory testing to see if reviewing these standards can achieve improved shelf-life without compromising product safety.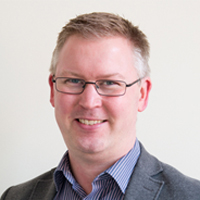 Greg graduated with a PhD in Molecular Microbiology from Swansea University and joined Campden BRI in 2006.
Get involved
It's not too late for suppliers and retailers to take part in this research and provide a range of products for testing. If you'd like to get involved, contact the project lead Greg Jones.
How can we help you?
If you'd like to find out more about your product's shelf-life, contact our support team to find out how we can help.