29 August 2017 Press Release
Five RoSPA golds for Campden BRI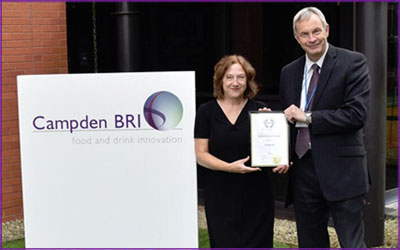 Campden BRI has won a RoSPA Gold Medal for Occupational Health and Safety. This medal acknowledges its achievement of gaining a Gold Award for the fifth year in a row. This is a highly regarded national award and is given in recognition of the company's achievement and commitment to raising and maintaining standards of Health and Safety management.
The award is open to all companies - not just members of RoSPA. Entrants must demonstrate their health and safety performance against selected criteria by answering key questions and providing supporting evidence.
Martin Hall, Director of Science at Campden BRI said, "We are delighted to receive this award for the fifth time in a row. This shows our commitment to health and safety and acknowledges the efforts of every single member of staff in making Campden BRI a great and safe place to work."
Julia Small, RoSPA's Head of Awards and Events, said, "The RoSPA Awards are the most prestigious in the world of occupational health and safety and held in high regard around the world. Winning one demonstrates an organisation's commitment to maintaining an excellent health and safety record. Achieving the standard required is no mean feat".