13 December 2018 Press Release
Campden BRI staff raise over £2,000 for mental health charity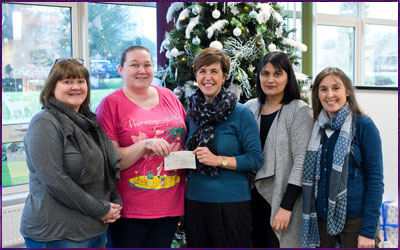 Staff at Chipping Campden based Campden BRI raised £2,100 for mental health charity MIND over the past year. The company's fundraising team ran a number of events and activities throughout the year including cake and DVD sales, a best dressed egg competition at Easter and a Christmas raffle.
Claudine Pearson, from MIND's local branch, Springfield MIND, which covers Worcestershire and Warwickshire, picked up the cheque.
She said:
"We're very grateful to the staff at Campden BRI for supporting us. It will help us with our aims of delivering local services that promote wellbeing and the prevention of mental health problems in Warwickshire and Worcestershire."
Springfield MIND runs a range of activities including drop-in sessions, courses and outdoor gardening activities, as well as working closely with local GP surgeries.
Jody Cuss, a member of Campden BRI's fundraising team, said:
"The importance of mental health is becoming increasingly acknowledged, so it was great that our staff chose MIND as their charity for the year and put their hands in their pockets to raise more than £2,000"
For 2019, Campden BRI's staff have chosen Helen & Douglas House as their charity for the year. It provides hospice care for terminally ill babies and children, and their families in Oxfordshire and its surrounding counties, including Gloucestershire, Warwickshire and Wiltshire.