24 November 2017 Press Release
UK student team win silver at European innovation competition with low-calorie vegan sushi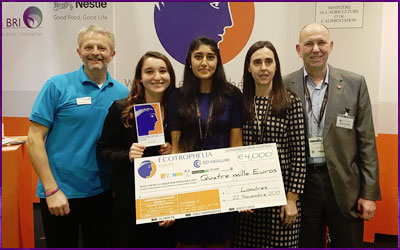 A team from The University of Reading has been awarded the silver prize at the European final of Ecotrophelia for their caulirice sushi. The vegan sushi is made using cauliflower rice and fresh vegetables and contains just 75 calories per portion.
The team were presented with an award and a cheque for €4,000 by Ariane Andres, Head of Academic Alliances at Nestle Research Centre and Bertrand Emond of Campden BRI at Food Matters Live exhibition in London.
Natasha Patel from the University of Reading team said, "It feels surreal to get a silver medal at the European competition among some incredibly strong entries across Europe. After winning the UK competition, our team worked with mentors from IFST, Marks and Spencer, Coca-Cola, Sainsbury's, Mondelez International and Campden BRI to make caulirice as strong as it could be and we're grateful for their amazing advice."
Team member Pavandeep Matharu added, "It's great to see our idea grow from a university project to a successful final product. We looked into the growing trends of veganism, and replacing carbohydrates with vegetables to create a lower calorie lunch."
Now in its seventh year, Ecotrophelia challenges teams of students from across Europe to develop an innovative, eco-friendly food and drink product. From idea generation through to the final packaged product, the teams get a hands-on experience of new product development.
Bertrand Emond, Head of Membership and Training at Campden BRI said, "This is the second year in a row that a UK team has had success at the European finals and we are delighted for the University of Reading team. The food industry faces fundamental challenges including reducing our environmental impact, meeting growing global demand for food and producing more from less as pressure increases on resources. We must support efforts to nurture and drive innovation in the industry that helps us to meet these challenges. Ecotrophelia is a fantastic platform and source of innovation and inspiration for the industry, which capitalises on the creativity and energy of our brightest and most enterprising food students supported by the best academic institutions. A huge thanks to all the sponsors of the UK competition for their continued support."
Ecotrophelia UK is organised by Campden BRI in conjunction with the Institute of Food Science & Technology (IFST) and sponsored by Marks and Spencer, Unilever, Coca-Cola, Sainsbury's, PepsiCo, Tesco, Mondelez, Warburtons and Food Matters Live.
www.ecotrophelia-uk.org and https://eu.ecotrophelia.org/