G22 Meat and meat products - the calculation of meat content, added water and connective tissue from analytical data 2nd Ed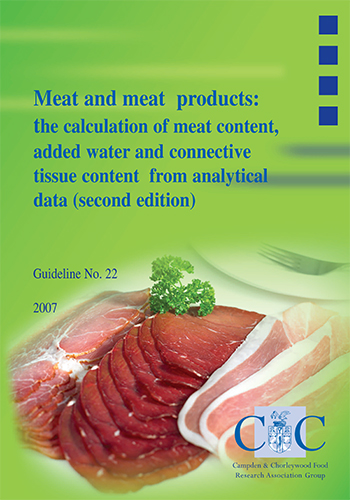 2nd edition (2007)
ISBN 978-0-907503-40-8
Gain a full understanding of meat content calculations to help ensure accurate and legal meat content declarations on products.

This extensively revised and updated guideline provides a clear explanation of meat content calculations. It first explains the basic calculation of meat content, and then works step-by-step through the calculations to allow for the presence of soya, cereal protein, connective tissue, added water and fat migration, as well as restrictions imposed by recent meat content legislation. The calculations are illustrated with realistic worked examples. Supplementary sections provide useful comments on nitrogen factors, sampling of products prior to analysis, sources of valuable information, the calculation of uncertainty factors, and an outline of the main methods used in the analysis of meat content.

This guide is aimed at anyone who needs to understand the basics of meat content calculations, and will be especially valuable to laboratory, technical, production and product development staff in the meat and meat products industry. It will also be valuable in training those involved in meat product quality assurance.
Format: Digital (PDF) or hardcopy
£35 - Members
£55 - Non-members