HS1P1E3 Campden BRI HACCP auditing standard 3rd Edition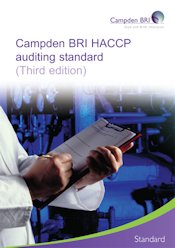 3rd edition (2015)
ISBN 978-0-907503-83-5
As industry has become more familiar with HACCP, the emphasis has shifted from establishing a HACCP system, to HACCP standards for auditing and verification. This document defines the requirements that a food operation needs to meet in order to obtain third party recognition of its HACCP system.
Using this Standard HACCP teams will be able to demonstrate their ability to develop and maintain effective food safety management systems based on HACCP principles; whilst customers, auditors and enforcement authorities can ensure best practice has been followed in establishing the HACCP system. The standard also defines the mode of operation of the Campden BRI HACCP Audit and is used as the basis of Campden BRI's HACCP certification scheme.
Conformance with this standard should enable food operations to meet the HACCP requirements of the BRC Global Standard for Food Safety, and it should provide a good basis for food operations aspiring to ISO 22000/FSSX 22000.
Format: Digital (PDF) only
£80 - Members
£95 - Non-members