G80 Guidelines for the safe production of heat preserved foods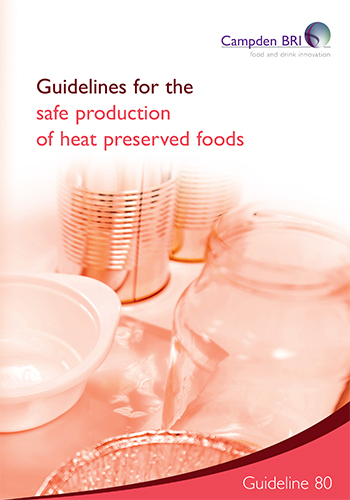 1st edition (2022)
ISBN 978-0-907503-97-2
This document updates the 1994 Department of Health (DoH)
publication "Guidelines for the Safe production of heat preserved
foods" which is considered essential and became a staple reference
for food businesses across the globe.

Despite the introduction of new technologies, heat continues to be
the main process used to preserve foods and the heat preserved
foods sector is one of the largest and most important. It is vital,
therefore, that the right, current guidance for this sector is available
to provide food business operators the best practices to manage
risk. Thus, after over 25 years, the original guidelines have been
updated to reflect changes in the industry and additional guidance
that has been published subsequently.

These updated Guidelines provide detail on the requirements for
the manufacturing of heat preserved foods, both in-pack processed
and aseptically filled. The focus is on the thermal process
operations important to food safety, rather than on factory
management (which is now addressed elsewhere in other
publications).

The scope includes additional areas, such as newer packaging and
processing formats; the use of electronic records; acidification (both
natural and acidified), water activity (aw) control, chilled storage, and
the use of preservatives. Other chapters, including those on
preservation hurdles and pasteurisation, have been expanded.

The intention is that these guidelines provide advice and guidance
to those concerned with the manufacture of heat preserved foods
and set the benchmark for good manufacturing practice (GMP). The
guidelines are to be used alongside international and other UK
standards. Whilst the focus is on UK production of heat preserved
foods, the principles are relevant to any manufacturing operation
globally.
Format: Digital (PDF) or hardcopy
£100 - Members
£145 - Non-members