Temperature/heat distribution testing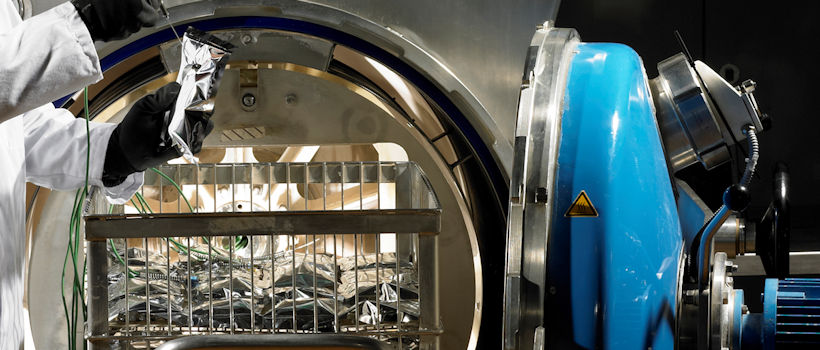 What is distribution testing?
A temperature distribution study describes a series of temperature measurements at different pack locations inside a retort or cooker, to assess the temperature uniformity and stability through the system and identify the 'cold spot'; the area calculated to be the 'worse-case' position inside the cooker. This work is vital for any retort or other in-pack processing method- such as a tunnel pastueriser.
A heat distribution study is more involved requiring further measurements and apparatus to calculate the heating rate at different positions within the cooker or retort. Heat distribution becomes more meaningful than temperature distribution when the rate of heat transfer is affected by variables such as flow rate or fan speed, for example in water or steam/air retorts respectively. It is specifically required when exporting low acid sterilised product processed using these retort types to the US market.
There are many specific details that need to be adhered to in both the experimental set-up and the analysis of data, making a compliant temperature/heat distribution test challenging to undertake.
Thermal processing training courses
Explore our Thermal processing related courses including; Thermal processing and validation and Thermal processing - continuous flow, live online tutor-led course
Are you getting the most from your Membership?
Watch our membership FAQ videos and find out more about Member Service Account spending, Member Interest Groups, help and advice
Where we refer to UKAS Accreditation
The Campden BRI group companies listed below are both accredited in accordance with the recognised International Standard ISO17025:2017 by the United Kingdom Accreditation Service (UKAS). The accreditation demonstrates technical competence for a defined scope of methods, specific to each site, as detailed in the schedules of accreditation bearing the testing laboratory number. The schedules may be revised from time to time and reissued by UKAS. The most recent issue of the schedules are available from the UKAS website www.ukas.com
Campden BRI (Chipping Campden) Limited is a UKAS accredited testing laboratory No. 1079 Campden BRI (Nutfield) is a UKAS accredited testing laboratory No. 1207