What's hot in food microbiology? Conference reveals all
By Fiona Cawkell - 19 November 2020
As COVID-19 continues to impact the food and drink sector, our team at Campden BRI held a three-day online conference to help the industry understand the current and future microbiology issues affecting the safe production of food. Featuring expert speakers from across the industry, the conference covered how to control SARS-CoV-2 and the 'usual' pathogens often associated with foodborne disease, including Campylobacter and Listeria. It also provided delegates with an understanding of the main issues currently impacting the industry, some of which we've compiled in this short article.
COVID-19 and Norovirus
SARS-CoV-2, the virus that causes COVID-19, has created the largest pandemic of our lifetime and it's playing a pivotal role in many food and drink businesses' decision making – especially when it comes to cleaning. Many food business operators have been put in a position where they've had to assess the effectiveness of their cleaning regimes. During the conference, one of our microbiologists detailed how we've developed and validated a test that can determine the effectiveness of a disinfectant against SARS-CoV-2. It was revealed that the test uses a surrogate, the bacteriophage Phi6 which is very similar to SARS-CoV-2, to determine whether a cleaning chemical or disinfectant could inactivate the virus that causes COVID-19. Further still, the surrogate does not infect plants or animals, including humans - and so is much safer to work with. Debra Smith from Vikan then went into greater depth, detailing how the hygiene industry has responded positively to the COVID-19 outbreak.
Up next was Norovirus. We learnt that the number of foodborne illnesses has more than doubled over the last ten years with Norovirus the front runner showing the largest increase during that time. What some delegates found most interesting was how there's currently no legislation to say that producers must test their products for foodborne viruses.
Listeria, Campylobacter and Cronobacter
As the conference progressed and it included the bacterial pathogens that often grab the headlines, Prof. Mieke Uttendaele from the University of Ghent took centre stage. She shared her thoughts on the possible lack of effective regulation in the food sector for Listeria and discussed how more tailored food safety management systems are required for effective control. Further still, Dr Winy Messens from the European Food Safety Authority (EFSA) outlined the EFSA recommendations for the safe consumption of blast frozen vegetables reducing the risk of Listeria monocytogenes food poisoning.
As a microorganism that is considered of great importance to the food industry (due to it being the leading cause of bacterial food poisoning), Campylobacter grabbed everyone's attention, especially following an interesting insight from the University of Wageningen's Mazen Lanzl. She advised that when testing for Campylobacter, competition from other competing microorganisms during enrichment should be studied more intensely as this could account for false-positive detection outcomes.
Next came an unlikely guest to a microbiology conference: insects. With an ever-increasing world population, alternative sources of food (especially protein) are essential. Edible insects show great potential as an environmentally friendly choice for future food systems. However, as we see an increase in the use of insects as human food, the microbiocidal safety of this food source must be examined. This is where the University of Coventry's Dr Daniel Amund came in. From him we learnt that while Cronobacter spp. has been found to be detected in edible insects, the levels are not considered to be of high risk for healthy individuals. However, a cautionary note was played towards those looking to develop products with insects as Dr Daniel Amund stated that care needs to be exercised for 'at risk' groups.
Missed the conference? Listen to the presentations in full
Get a real in-depth insight into what's hot in microbiology from the experts themselves by listening to the presentations. The recordings can be purchased here.
Need help with microbiological analysis?
At Campden BRI, we offer microbiology testing and microbiological risk assessment. As well as routine microbiological analysis to determine levels of microorganisms in foods, we can identify what the organisms are and investigate the source of any contamination problems. If you have any questions, please get in touch. Email at support@campdenbri.co.uk or call our switchboard on +44(0)1386 842000 and they will be happy to direct your call to the relevant person.
This article was first published by Rapid Microbiology.
Fiona Cawkell
+44(0)1386 842142
fiona.cawkell@campdenbri.co.uk
Fiona Cawkell has worked for Campden BRI since 1988 having been employed previously in the food industry as a microbiology laboratory manager.
Upcoming microbiology courses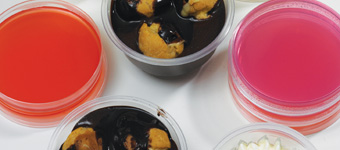 As we've learnt with the recent pandemic, understanding potential microbiology challenges can help you prepare for them. If want to understand more about this issues or you need to refresh up on your knowledge, then check out these upcoming courses:

Major food microbiology pathogens
Microbiology for non-microbiologists.