How is the industry demonstrating control of Listeria? Survey reveals all
9 May 2021 | Linda Everis, Section Lead
Outbreaks of Listeria monocytogenes in recent years have reminded the food industry of the serious food safety concern this pathogen creates along the food chain. Often associated with ready-to-eat foods, all food business operators (FBOs) who manufacture these goods must be able to demonstrate effective control of Listeria in their products. This is important not just because of the health risk this pathogen poses to the public, but also because it's a requirement under EU legislation (EU microbiological criteria legislation - regulation No. 2073/2005).
Is this an area that you struggle with? You're not alone. In fact, working closely with the industry we've found that food manufacturers can find it a challenge to provide the right evidence to demonstrate effective control of Listeria to customers and the enforcement authorities.
Not being able to adequately demonstrate control of this pathogenic organism can result in product recalls, as we've seen relatively often in recent years. This is understandable, especially when you consider that clear links have been found between a lack of Listeria control and subsequent Listeria outbreaks.
So, it's obvious that this is a significant issue – but what can be done about it? This is where our current research comes in. Along with identifying ways to help FBOs demonstrate they're keeping this organism under control, our team recently surveyed the food industry to establish any potential weak points in Listeria control.
Providing evidence of Listeria control
Evidence of controlling Listeria can come from many different sources from challenge tests to historical data, but each approach will not necessarily provide the same evidence of control. Understandably, this can be confusing for FBOs. At Campden BRI, our microbiology team are undertaking a research project which aims to produce guidance on how to approach Listeria control. The team are developing what is anticipated to become a scoring system where control measures and results are graded to provide absolute clarity and evidence for FBOs, helping them demonstrate their control Listeria.
For this to work, we first need to get a grasp of how well food and drink manufacturers are already controlling this organism. This is where our recent industry survey on Listeria control comes in.
Understanding the industry's control of Listeria - survey
The project's survey established food manufacturer's current level of awareness of this pathogenic organism and their steps to control it. In total, we received over 100 responses from across the food and drink sector, providing us with the insight we needed to progress the project.
The results were interesting.
Of all the participants, 82% stated that they were aware of Regulation (EC) No 2073/2005 which sounds great but does mean that 18% were not aware of it. On top of this, it was revealed that most of the respondents produced products that could potentially support the growth of Listeria. This can be seen in Figure 1 (it's worth noting that a small percentage did not know whether their product could allow Listeria to grow – potentially highlighting a need for the industry to ensure staff are up to date with relevant microbiology training).
Which sector did they work in?
Respondents were then asked about the sector of the food industry they worked in and which food types they produced. As a survey targeted at those who handle ready-to-eat food that's liable to allow growth of Listeria, it was no surprise that the dominant sector was finished products (Figure 2) with processed chilled foods accounting for over half of the food types (Figure 3).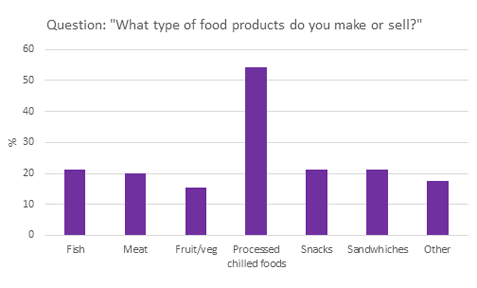 How the industry is keeping Listeria under control
Finally, respondents were asked about the control measures they currently use to ensure Listeria control. As shown in Figure 4, it became clear that to demonstrate control, 88% of respondents rely on environmental testing. Routine product testing came a close second, chosen by 70% of respondents. Challenge tests, durability studies and predictive modelling were found to also be used but to a much lesser extent. Overall, the team realised that a way in which all of these approaches could be combined would be potentially very useful for FBOs and maybe an area needing further research.
So, did the respondents feel confident that their control measures would satisfy customers or competent authorities if or when challenged?
In short, most said yes, but a significant number reported that they were 'not sure' (28%) or that they didn't think so (7%). This highlights the clear need for guidance in this area and the outcomes of this research.
All in all, the industry survey provided encouraging feedback that there is a clear need for this project's outcomes to help FBOs demonstrate control of Listeria. The project will be further steered by our members during its duration. To ensure the project's relevance and validity, data is still being gathered and analysed but we anticipate a guidance document (based on the project's findings) will be produced by the end of 2021.
How can the industry control Listeria?
Diligence, vigilance and understanding risk are key components in the fight against Listeria contamination in food and drink products. Clear guidance based on solid science has proven itself time and time again as the most effective 'weapon' in the food manufacturer's arsenal to achieve this. Another of our projects 'Control of Listeria in food environments' is set to produce an up-to-date 'one-stop-shop' guideline document to help FBOs control Listeria during food production, and will be published later in 2021.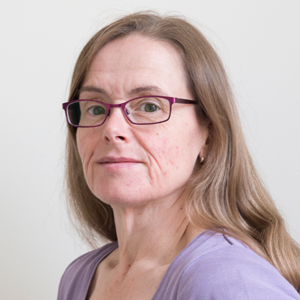 Linda Everis joined Campden BRI in 1995 as a Senior Technician in the Microbiological Analytical Services group having graduated from the University of Wales Aberystwyth with a BSc in Biology.
Project: Demonstrating control of Listeria within ready-to-eat foods
Want to find out more about this project? Keep up with its progress by visiting the project's page:
How can we help you?
If you'd like to find out more about how to control Listeria, contact our support team to find out how we can help.