Heat penetration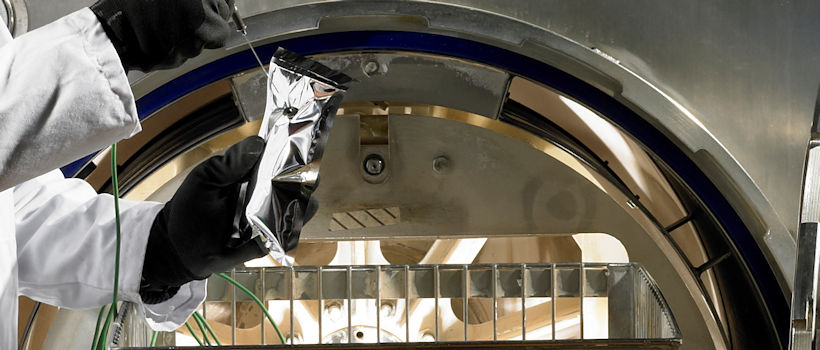 What is heat penetration testing?
The experimental set-up for heat penetration testing is critical and requires knowledge of heat transfer and practical experience to capture the worst-case scenario for heating and ascertain a robust method to measure product temperature.
Heat penetration testing is required for any in-pack thermal process, either pasteurisation or sterilisation, and can be conducted in a variety of ways. We have experience in the heat penetration of a variety of process types for many different sectors of the food and drink industry. These processes include:
Batch retorting of food cans, glass jars, semi-rigid trays/pots, pouches and other flexible packaging types
Continuous retorting, for example hydrostats and reel and spiral cookers
Pasteurisation in tunnel pasteurisers, for example jars of condiments or beverage cans
Batch cooking of liquid foods in kettles
Batch ovens used in chilled foods, for example cooking of sandwich meats.
Sometimes this will need to be supported by cold-point determination (to find the worse-case probe position within the product) and in most cases distribution testing (temperature or heat) is required.
The data collected in a heat penetration study is used to assess whether the scheduled process will always ensure the product reaches a specific target, e.g. a time/temperature or an F0 or pasteurisation value.
It can also be used to assess if cooling is appropriate, important for low acid heat preserved foods and vital for cook-chill and cook-freeze processes.
It is useful for heat penetration studies to consider certain scenarios that may be difficult to replicate in the factory. For example; what happens if the cooker temperatures dropped by 2°C, is the product still safe? We can use real temperature data in conjunction with modelling software to explore these possibilities. At Campden BRI we have developed our own thermal processing software called CTemp, a useful modelling tool to explore scenarios which are not possible to replicate during a heat penetration study.
Follow links for a whiteboard demonstration explaining the steps towards validation and optimisation of thermal processes:
Thermal processing training courses
Explore our Thermal processing related courses including; Thermal processing and validation and Thermal processing - continuous flow, live online tutor-led course
Are you getting the most from your Membership?
Watch our membership FAQ videos and find out more about Member Service Account spending, Member Interest Groups, help and advice
Where we refer to UKAS Accreditation
The Campden BRI group companies listed below are both accredited in accordance with the recognised International Standard ISO17025:2017 by the United Kingdom Accreditation Service (UKAS). The accreditation demonstrates technical competence for a defined scope of methods, specific to each site, as detailed in the schedules of accreditation bearing the testing laboratory number. The schedules may be revised from time to time and reissued by UKAS. The most recent issue of the schedules are available from the UKAS website www.ukas.com
Campden BRI (Chipping Campden) Limited is a UKAS accredited testing laboratory No. 1079 Campden BRI (Nutfield) is a UKAS accredited testing laboratory No. 1207