How resilient is your supply chain?
30 November 2022 | Richard Leathers, Global Quality Lead and Mike Adams, Product Innovation Lead
Campden BRI has a long history of providing specialist advice to the food and drink industry on best practice for ensuring that supply chains remain resilient when under threat. Richard Leathers, Global Quality Lead and Mike Adams, Product Innovation Lead recently discussed the importance of food supply chain resilience and how Campden BRI can guide and support businesses in identifying, preparing for and navigating supply chain threats.
Download our FREE Supply Chain Resilience eBook today! Thrive in a changing environment by being prepared, agile and resilient.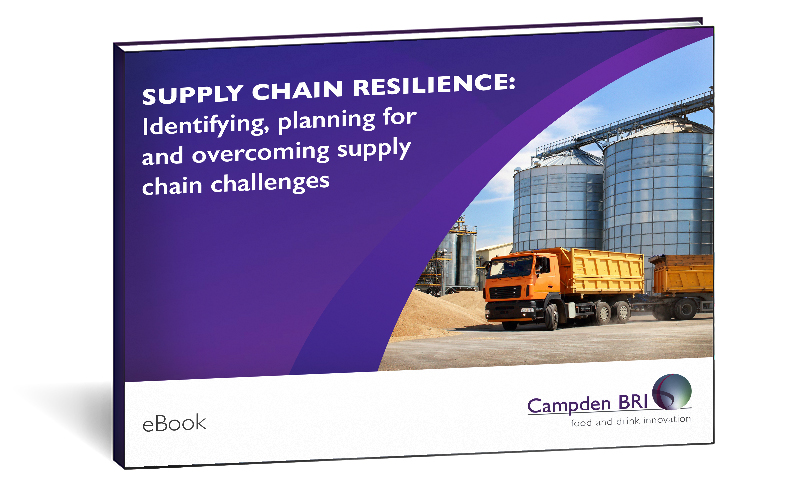 From what challenges do our supply chains need resilience?
New raw materials
New suppliers of existing raw materials
Enforced changes – where suppliers have no option but to make or accept changes to their supply chain and are not able to give their customers alternatives, or in some cases do not communicate the change
Cost and availability pressures
The general themes and types of supply chain challenge keep coming back again but robust horizon scanning and pre-planning for such challenges is not something that the food industry always gets right.
Can we learn from the past?
Unfortunately we are not short of examples where supply chain challenges have caused things to go wrong, creating significant issues for the food industry and consumers.
Milk contamination – melamine
Cumin adulteration – with ground peanuts and almond shells
Horse meat – adulteration into beef
All of these examples link back to cost and availability pressures. They show that trying times are when we must be most tuned into triggers and drivers for risks such as adulteration and other malpractices. Food and drink businesses must have robust measures in place for identifying, planning for and dealing with supply chain challenges, in order to protect consumers, reputation and their bottom line.
What are some of the potential threats to your supply chain?
Agents and traders
Materials can pass through many different 'hands' before they get to you. It's important to understand all the stages because subtle changes can have a big consequential impact. For example, part of the chain could have a new warehouse and no longer have the same allergen segregation.
Remote audits and lack of auditing
It can sometimes be harder to identify subtle changes when performing blended and remote audits. It's important not to be complacent, for example by relying overly on paperwork. When auditing suppliers, you must make sure to look at the whole package of controls in place and take a holistic view of all elements of their food safety and quality management systems as well as the controls in place at their suppliers.
Enforced changes
Your supplier is having to make changes to their supply chain without giving you an option. This may be due to an issue at their supplier or due to lack of availability of raw material, such as the current challenges with CO2, wheat and edible oils. Campden BRI can support you in preparing for such eventualities and getting ahead of them.
Lack of communication between the supplier and the customer
The temptation may exist for a supplier not to inform you of an enforced change that has affected them and therefore affects you. Perhaps they are concerned that they will lose business as a result of their customers not accepting the change. Not informing customers of changes could be malicious, or instead could simply be the supplier not understanding the significance of a change.
Allergen considerations
Known and unknown supply chain changes may affect cross-contamination or cross-contact risk level, as well as allergenic content.
Lack of supply chain understanding
It is imperative to know the detail of your specific supply chains. Taking garlic as an example, by going 'back to the field' you know it has the potential to be contaminated with peanuts due to crop rotation on the same land and related co-storage. It is also important to understand the drivers of potential forced changes, malpractice and food fraud. Flags include drought, shortages and price rises, such as the rises we are currently seeing globally in milk and egg prices.
Ineffective raw material risk assessments
In BRCGS audits, this is one of the top areas of significant non-conformances. BRCGS Issue 9 saw the introduction of clauses (such as 3.5.1.1) saying that where there is a change in a raw material, the processing of a raw material or the supplier of a raw material, you may have to review the risk assessment. Read our guide to key changes in Issue 9.
Material variation
Whilst this can be a positive when looking for a material that suits your needs, it means that care and validation is needed when finding suitable replacements or alternatives to an ingredient or supplier.
You could buy five pea proteins from five different suppliers and you will get five very different products
- Mike Adams
If something changes unexpectedly, or without your knowledge, it could potentially jeopardise the food safety and quality of your end product, or even your ability to produce it at all.
How can we make our supply chains more resilient and protect our end products?
Your approach has got to be much more dynamic than having a three yearly or even annual review
- Richard Leathers
Know your ingredients – understand the functionality they bring to the product and potential impacts of changes
Know your specifications – make sure you understand what is a non-negotiable standard and where you can afford to flex to keep your factory running
Supplier relationships – build relationships that facilitate open and honest discussion
Horizon scanning – have a means of staying up to date on the latest upcoming triggers of potential shortages, price rises and food fraud well in advance
It's not just about turning something on when there's a crisis. It's about ensuring that the planning and forethought happens early enough that you can sleep easy at six o'clock on a Sunday morning
- Richard Leathers
Take action early when a threat is identified – get purchasing, technical and other stakeholders involved at an early stage such that a threat can feed into the food safety and quality management systems and plans can be put in place
Be proactive and dynamic – make your food safety and quality management systems more dynamic, rather than fixed points in time where you just have one annual review of specifications, HACCP plans and raw material risk assessments
Risk assessments – use your raw material risk assessments as a tool
Campden BRI can guide and support you to adopt and apply these principles in practice.
You need to understand what that material is bringing to your product and have a plan B, plan C and plan D with the supply chain information
- Mike Adams
Do you need support in building resilience into your supply chain?
Are you concerned about securing the ingredient supplies you need? Do you need support in building resilience into your supply chain to ensure business continuity without compromising quality or food safety? We can help.
Whether it's an unplanned or planned change, value engineering or cost engineering, Campden BRI can help you navigate all the steps in the process. Here are just a few examples of ways we can support you:
Consultation and training on all of the aspects discussed here.
Food safety guidance as well as regulatory guidance, including legislation and claims.
Onsite or remote support. Verbal advice, written advice and 'phone a friend' enquiries.
Systems sense-checking, through to hands-on input into the whole food safety and quality management systems process.
Services such as microbiological, chemical and physical analysis, to assess the impact of a change in factory operations and on product quality and safety.
Assessing new and changed ingredients in our pilot plants. We can emulate the way that you make your product in the factory and provide feedback and samples to help you understand the impact of the ingredient change.
Consumer insight and sensory services to assess ingredient / supplier changes – we can facilitate a deep understanding of whether your product is technically the same or if an attribute is affected and tell you what consumers think.
Whilst our expertise is end-to-end, our members and clients can choose to involve us with specific areas to an extent that suits them. Supply chain resilience can require input from a lot of disciplines that you may not have access to. Or perhaps you've already got change projects planned where resource isn't available? We're here to help, through offering expertise and resource to enable you to move quickly.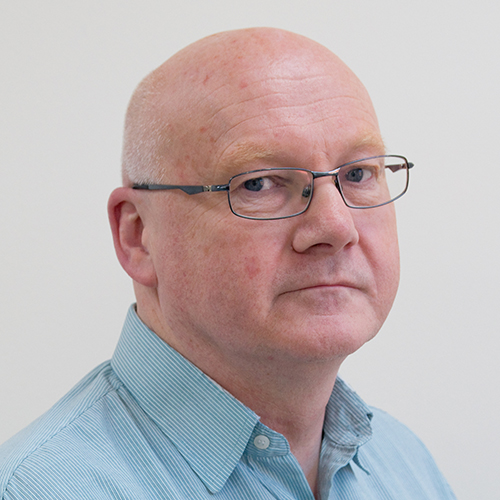 Richard Leathers joined Campden BRI in September 2011, working in the areas of HACCP and Quality Management Systems.
Mike is the Process Innovation Lead, within the Consulting, Technology Group at Campden BRI and joined the organisation in April 2016.
How can we help you?
If you'd like to find out more about building resilience into your supply chain, contact our support team to find out how we can help.
Download our FREE 'Supply Chain Resilience' eBook today!
Be resilient and thrive – ensure continuity of supply of safe, quality food.