How to build a convincing business case for your food or drink product optimisation strategy
24 February 2023 | Mike Adams, Product Innovation Lead and Birsen McArdle, Value Optimisation Lead
Within the food and drink industry, regular product optimisation is essential for identifying opportunities to maximise profit. This evaluation benchmarks your products against competitors and identifies areas where new advances in science and engineering can help modernise processes, packaging and recipe formulations for cost-effective product manufacture. At a minimum, companies should evaluate their products every three years if they want to stay ahead of the game.
But how can you take these opportunities from concept to reality? While identifying an optimisation opportunity and building a road map of how to achieve it are important, ultimately you need backing from stakeholders to implement it. Stakeholders are the ones who will provide the time, resources and funding needed to bring your plans to life.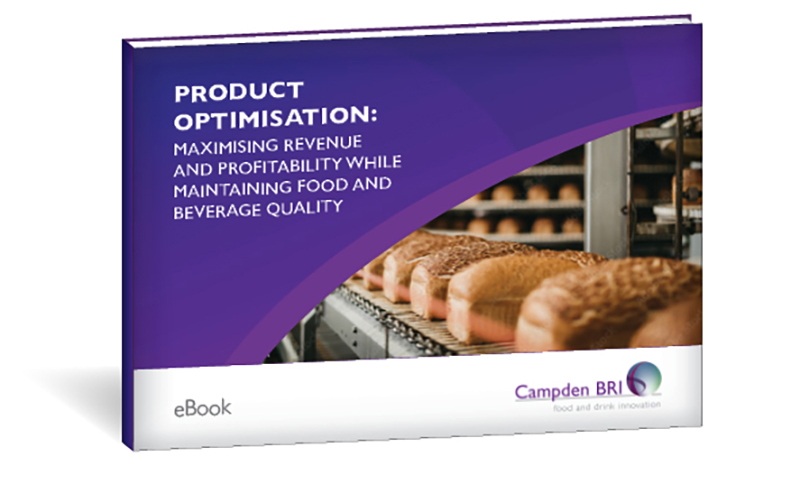 A solid business case justifies your ideas to stakeholders and senior management, and helps communicate the information that they need to approve your proposed plan — you will be highly unlikely to get approval on your proposal without one
But building a business case can be daunting if you don't know where to begin.
This blog explores how to build a convincing business case to secure stakeholder buy-in to your product optimisation ideas and ultimately boost the profitability of your products.
Four steps to a persuasive business case
Putting together a business case involves an in-depth assessment of the investment required, the benefits of implementing the new approach, and an evaluation of any risks associated with the process. To make sure you build the most compelling business case you can, follow these four key steps:
1. Introduce the problem
To begin, you need to explain the existing problem in your process, its cause and the timeframes required to address it. For example, a product may be getting wasted because of an unnecessarily short shelf-life that you'd like to extend within the next year. By clearly outlining the problem, you ensure that key stakeholders are aware of it and understand the need for a solution.
To strengthen your case, you should emphasise how addressing the challenge supports your organisation's wider strategic plans. For example, if your proposed solution will help increase production efficiency, explain how it will ultimately support the company's goal of reducing costs. If possible, include information on the competitive landscape to help explain why the project is necessary, such as how competitors are currently addressing similar issues, or market trends that make it critical to act now to stay competitive.
2. Identify the solutions
Once you've highlighted the problem, you should outline the different available solutions. Aim to provide a comparison of at least three or four options for a clear picture.
To make this process more manageable, begin with a longlist of potential solutions and then use an evidence-based approach to narrow them down. For each proposed solution, note both the benefits and the risks, and evaluate costs and feasibility. As an example, if one solution involves investing in new equipment, consider not only the increased efficiency it will bring but also the costs associated with the purchase, installation and maintenance of the new equipment.
3. Recommend a solution
From the different solutions you have evaluated, you need to recommend the best one. To aid your decision, create a ranking system that helps you see which option is the most viable and best suited to address the problem.
When recommending a solution, clearly and concisely summarise the key findings from your evaluation. Explain how your chosen solution addresses the problem while also meeting the needs of your business's wider strategic plans.
4. Describe implementation
Your proposed solution may be attractive in theory, but you must convince stakeholders it is feasible and practical to implement. To do this, you should give as much detail as possible about the implementation plan and provide a road map for effectively achieving it.
When describing the implementation plan, make sure to include the following critical information:
A detailed project schedule with specific milestones and deadlines
A breakdown of the resources required (including personnel, equipment and materials) and how they will be obtained
Budget and financial projections, including expected return on investment (ROI)
A risk management plan that addresses potential challenges and how they will be mitigated
A plan for monitoring and measuring success, including the key performance indicators (KPIs) that will be used to track progress
Secure backing for your product optimisation project
Building a business case for product optimisation is crucial to secure the backing needed to move forward with your plan. By clearly defining the problem, highlighting the solutions, recommending the best option, and outlining how to implement it, you can create a strong business case that demonstrates the potential for increased profitability and maximise your chances of approval.
Even when following these steps, building a business case can be tough — but working with a specialist partner in food and drink innovation can provide the support you need. From assistance in finding a strategy to experience in building a business case, a specialist partner can bring the expertise you need to get the most out of your food and drink products.
Mike is the Process Innovation Lead, within the Consulting, Technology Group at Campden BRI and joined the organisation in April 2016.
How can we help you?
If you'd like to discuss opportunities to optimise your product/s, contact our support team today.
Download our FREE eBook today
To explore the different strategies that you can undertake to maximise your product revenue and profitability without compromising quality, download our eBook today.