3 ways to cost-optimise your food and drink products to protect profits
8 February 2023 | Mike Adams, Product Innovation Lead and Birsen McArdle, Value Optimisation Lead
With the food and drinks market set to expand rapidly, manufacturers and suppliers face myriad opportunities. But at the same time, they must contend with several inherent challenges – raging inflation, reduced consumer spending, supply chain insecurity and global political turmoil. Manufacturers ill-prepared to navigate these conditions risk ceding market share to hungry competitors.
But how can companies best capitalise on this growing market and protect themselves against emerging obstacles? One way is through product optimisation. Regularly optimising the products in your portfolio helps you to satisfy consumer requirements more cost-effectively while identifying new ways to improve operations and boost your profits.
Product optimisation, however, involves many moving parts and can leave companies feeling lost with how to proceed. Here we demystify a critical aspect of product optimisation – cost optimisation – outlining three effective approaches that you can use to cost-optimise your products.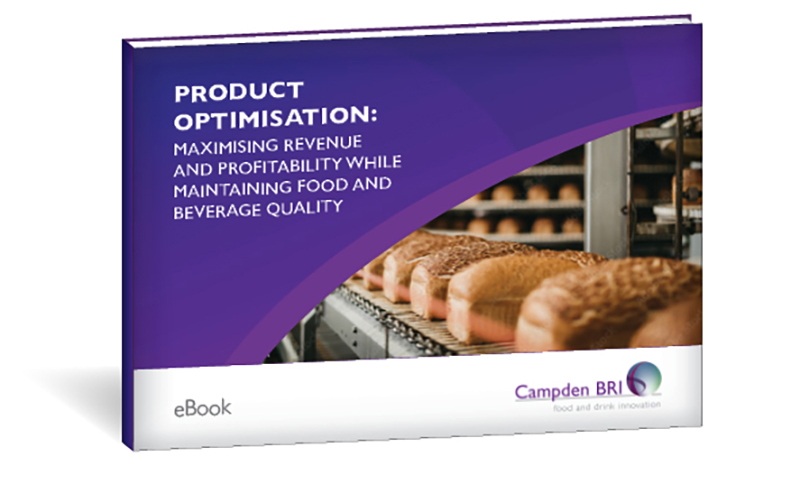 So, what is cost optimisation?
Cost optimisation is one of two critical components of product optimisation
Cost optimisation focuses on maintaining the value and quality of a product while improving the cost efficiency of producing, distributing, and storing it. In practice, this means critically analysing the drivers of product costs and then pursuing sustainable measures to streamline them, being careful to ensure that product safety, integrity and appeal are in no way compromised in the process.
Critically, cost optimisation encompasses a variety of approaches. Here, we focus on three impactful examples: product reformulation, supply chain mitigation, and portfolio rationalisation.
1. Product reformulation
Product reformulation is an umbrella term covering several effective cost optimisation processes – namely, recipe / packaging reformulation, product downsizing, and introducing manufacturing efficiencies.
Recipe reformulation
Recipe reformulation involves switching or eliminating ingredients in existing products. When executed correctly, it offers a powerful and effective way to trim costs while keeping key attributes, such as taste and quality, the same.
What's more, recipe reformulation doesn't necessarily mean scouring the globe for suppliers of alternative ingredients – the solution may be much closer to hand. For example, many companies find that alternative cost-saving and quality-preserving ingredients are already present within their current portfolio.
Sometimes, however, you'll have an ingredient that can't be substituted, much less removed altogether. That's where optimised ingredient processing can bring significant cost savings. Indeed, we supported vodka company Black Moth in doing just this. We developed a process by which they were able to quadruple the flavour extracted from their vital — but incredibly expensive — European Périgord truffle ingredient for their truffle vodka, reducing the amount of this costly ingredient required per batch, and so greatly improving the cost-efficiency of the product.
Product downsizing
Composition isn't everything when it comes to product reformulation. Downsizing – reducing the pack size, weight or volume without changing the price – is also an effective option for cost optimisation, especially when faced with challenges such as inflation.
However, manufacturers should approach downsizing carefully, as consumers may not be willing to purchase a smaller product – especially if the difference is noticeable. Consumer acceptance testing is, therefore, paramount.
Manufacturers must also consider and test for adverse affects on other packaging and product performance elements that could inadvertently be impacted by having a less-full pack.
Streamlining manufacturing and reducing waste
Considering how your product is processed can unlock further efficiencies. For example, can you optimise manufacturing to reduce costs while retaining your product's appeal to consumers? In most cases, the answer is yes, whether through more energy-efficient equipment, or investing in training or new machinery for waste reduction. And the impact can be huge, as demonstrated by Pukka Pies, who we supported in their achievement of a 40% reduction in pastry waste for one of their products.
2. Supply chain mitigation
Another powerful strategy in the cost optimisation arsenal is supply chain mitigation. With global product availability constantly fluctuating and at the mercy of external factors, companies can be left struggling to source ingredients, incurring high, unexpected costs.
Building supply chain resilience is therefore key. In practice, that means understanding all ingredients in your product and having a back-up plan for swift ingredient substitution should supply chains be threatened. Importantly, this doesn't need to involve the full replacement of an ingredient. Simply knowing how to reduce your ingredients without significantly impacting quality can do wonders for your bottom line during challenging times.
3. Portfolio rationalisation
Without proper, regular evaluation, product portfolios can balloon. While this offers more choice to consumers, the additional stock-keeping units (SKUs) can significantly add to your portfolio costs by complicating supply chains and manufacturing. That's why product portfolio rationalisation is another critical aspect of cost optimisation.
Portfolio rationalisation involves eliminating non-value-adding products from your portfolio. Making sound decisions on where to cut relies on a careful analysis of product-contributing margins and net revenues. Ideal candidates for elimination are those with both low volume and low margin. Done effectively, portfolio rationalisation helps you leverage purchasing scale, increase cash flow, and improve your gross margins.
And that's not all
Keeping ahead of the competition demands that companies continually grasp opportunities and strategically protect themselves against risks. To do this, regular and proactive cost optimisation of products is essential.
Recipe reformulation, supply chain mitigation and portfolio rationalisation are three powerful tools in the cost optimisation arsenal. But they aren't the only ones. Download our eBook today to discover a fourth cost optimisation strategy, as well as many other ways to maximise your products' revenue and profitability by considering both value and cost.
Mike is the Process Innovation Lead, within the Consulting, Technology Group at Campden BRI and joined the organisation in April 2016.
How can we help you?
If you'd like to discuss opportunities to optimise your products, contact our support team today.
Download our FREE eBook today
To explore the different strategies that you can undertake to maximise your product revenue and profitability without compromising quality, download our eBook today.