Venky's call on Campden BRI
Campden BRI case study
As part of the development and global expansion of their food service outlets, Venky's Xprs enlisted the long-term support of Campden BRI.
Part of the multinational poultry giant Venkateshwara Hatcheries Pvt. Ltd, the first Venky's Xprs outlet was opened at Banjara Hills, India. This event was attended by Mr. B. Venkatesh Rao, Managing Director of Uttara Foods & Feeds Pvt. Ltd. and Joint Managing-Director of Venkateshwara Hatcheries, and Mr. B. Balaji Rao Managing Director Venky's (India) Ltd. There are plans to open 100 new outlets across India in the coming years.
Dr. Jeherul Islam, in charge of Quality Control of Venky's Xprs, UFFPL explains "Venky's has extremely ambitious plans for its food outlets which demand support of the highest quality. We identified Campden BRI as our partner of choice and signed up as members. Campden BRI is supporting us through a range of activities including tailored training and laboratory management.
A series of bespoke training programmes at Campden BRI's UK headquarters - delivered to chefs, production operatives, technical managers and auditors - is taking advantage of the purpose-built training suite and associated food processing facilities. The blend of theory and practical sessions was designed in discussion with Campden BRI to cover product safety, hygiene, safety management systems, product quality management and sensory analysis."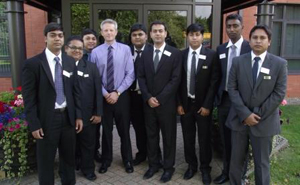 Campden BRI is also providing guidance and advice to help Venky's establish laboratories for microbiological testing. This draws on Campden BRI's extensive experience in laboratory design, systems and operation - all essential for efficient and effective delivery of reliable test results. This will pave the way for on-going support through a programme of laboratory audits.
Dr. Islam adds: "Campden BRI is a world-leading centre for food science and technology. It's expertise includes manufacturing technologies and process validation, packaging technology, safety assurance, product development and quality, and agri-food production, ingredients, and raw materials. The breadth of what they can provide us with means we can call on Campden BRI as a one-stop shop, to meet our technical needs across a range of functions."
Bertrand Emond, Head of Membership and Training
+44(0)1386 842062
bertrand.emond@campdenbri.co.uk