Sensory analysis (testing) techniques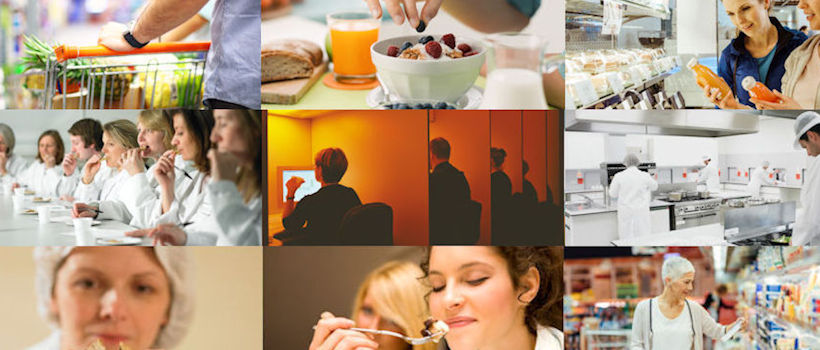 Descriptive Analysis
UKAS accredited full descriptive profile: This approach is recommended for larger sample sizes where an in–depth understanding of the sensory characteristics of products is required or if the data is to be correlated with consumer or analytical data.
Rapid attribute profiling: To meet our clients' needs we have developed this method to offer a cost effective solution to sensory profiling. This approach is usually adapted for smaller sample sizes or when the focus is on a limited number of attributes. This is particularly useful for screening products to obtain top–line information on their sensory characteristics.
Napping® and partial Napping®: Rapid methods, particularly ideal for 'sensory screening' of samples with different characteristics. Napping® and partial Napping®use a panel of trained assessors. Samples are grouped on a two dimensional surface according to similarities and differences, to produce a map, and descriptive terms applied to each sample within the map.
Ranking Descriptive Analysis (RDA): Ranking Descriptive Analysis (RDA) is a cost effective approach requiring fewer sessions for training and assessment compared to traditional sensory descriptive methods.
Polarised Sensory Positioning (PSP): Polarised Sensory Positioning (PSP) is a holistic-comparative technique where test samples are assessed against a number of reference samples called 'poles' (3 typically), which define the sensory space of the tested samples.
Discrimination Testing
UKAS accredited triangle testing: Triangle testing can be run for both difference and similarity, to help with new product development, product optimisation, and potential taint determination.
Tetrad: Tetrad testing can offer researchers increased efficiency and greater accuracy than triangle testing. Our experienced sensory scientists can advise on when and how to use Tetrad tests.
Sensory quality analysis
Sensory quality grading: Our experienced sensory quality assessors use a grading approach to understand differences in the sensory quality of products. This approach is utilised for shelf–life storage trials and to understand the effects of various treatments.
Campden food specifications for canned and frozen products: Campden product specifications are well known in the industry – they enable companies to produce canned and quick frozen foods to internationally recognised standards of quality, and so facilitate trade with partners.
Member of

Powered by

You may also be interested in
Other links
Sensory training courses
Explore our sensory related courses including; Sensory evaluation – an introduction and Sensory evaluation – discrimination testing
Are you getting the most from your Membership?
Watch our membership FAQ videos and find out more about Member Service Account spending, Member Interest Groups, help and advice
Where we refer to UKAS Accreditation
The Campden BRI group companies listed below are both accredited in accordance with the recognised International Standard ISO17025:2017 by the United Kingdom Accreditation Service (UKAS). The accreditation demonstrates technical competence for a defined scope of methods, specific to each site, as detailed in the schedules of accreditation bearing the testing laboratory number. The schedules may be revised from time to time and reissued by UKAS. The most recent issue of the schedules are available from the UKAS website www.ukas.com
Campden BRI (Chipping Campden) Limited is a UKAS accredited testing laboratory No. 1079 Campden BRI (Nutfield) is a UKAS accredited testing laboratory No. 1207