Sensing brands
Sensing brands is an approach that creates long term profitability by creating a distinctive and motivating sensory signature that brands own and drive. In doing so, it deepens consumers' emotional engagement between a brand, product and packaging, strengthening loyalty and delivering a competitive edge.
There are four key steps in our approach:
1: Conducting a brand audit
2: Creating the desired sensory brand signature
3: Evaluating the sensory brand signature through:
4: Assessing the value of the sensory brand signature
A Sensing brands approach provides a differentiated brand experience that drives repeat purchase behaviour.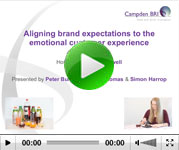 Find out more - watch our 30 minute webinar
This presentation reviews the role of sensory branding in brand development and explains why understanding emotions is vital for connecting brands with consumers.
Campden BRI - the home of Sensing brands. For more information contact Peter Burgess or Sarah Thomas at sensingBrands@campdenbri.co.uk or call on +44(0)1386 842000. Alternatively fill in our simple online form.
If you would like further information or prices please email us at support@campdenbri.co.uk or call our switchboard on +44(0)1386 842000 and they will be happy to direct your call to the relevant person.

Member of

Powered by

Where we refer to UKAS Accreditation
The Campden BRI group companies listed below are both accredited in accordance with the recognised International Standard ISO17025:2017 by the United Kingdom Accreditation Service (UKAS). The accreditation demonstrates technical competence for a defined scope of methods, specific to each site, as detailed in the schedules of accreditation bearing the testing laboratory number. The schedules may be revised from time to time and reissued by UKAS. The most recent issue of the schedules are available from the UKAS website www.ukas.com
Campden BRI (Chipping Campden) Limited is a UKAS accredited testing laboratory No. 1079 Campden BRI (Nutfield) is a UKAS accredited testing laboratory No. 1207