What will 2023 bring for the food and drink industry?
19 December 2022 | Roy Betts, Fellow and Zoe Beech, Market Insights Analyst
As with previous years, 2022 has been a challenge for many businesses and their people. Likewise, 2023 will bring its challenges as well as plenty of opportunities. Read on to see whether these are aligned with your predictions, concerns and expectations for the New Year ahead of us.
Opportunities – what do consumers want?
Our trend partner, The Food People (TFP) have indicated a number of trends for 2023/2024 that, as many may expect, relate to cost-of-living, inflation, energy prices and climate change / sustainability considerations of consumers. While the food and drink industry navigates new and continuing challenges, one of the many things that businesses must also do to succeed is focus on delivering the needs and desires of their consumers.
What are the expected 2023 consumer trends?
Unsurprisingly, the cost of food shopping and the energy used for cooking are both expected to influence consumer behaviour. Simple pleasures done well (or with a unique spin) are going to be important comforts for many consumers, as will being able to seek luxury in out-of-home sandwiches and patisserie rather than from restaurants. This does not mean, however, that 2023 will be bland – with consumers wanting to experience new and bold flavours from these staple products.
It is anticipated that consumers may start to value frozen and ambient products more. Batch cooking, slow cookers, air fryers and other cooking methods that consumers consider cost / energy efficient will be prevalent. When consumers do eat out, it is expected that traditional, reliable Italian cuisine may drive the restaurant of choice (as well as this cuisine continuing to thrive for at-home cooking).
Cost and comfort will not be the only drivers for consumers, who are expected to continue being led by health-conscious motivations, as well as environmental considerations for both products and their packaging. Minimally processed and 'clean label' perceptions are likely to drive purchasing, as are offers of an additional claim or perceived benefit – with a growing consumer interest in gut health and other targeted nutrition. Convenience will remain a priority in conjunction with the health-conscious desires, with people wanting products that deliver both. TFP also foresee that the general trend towards 'flexitarianism' and reducing meat intake will continue, as well as the demand for low / no alcohol beverages.
Healthy food at an affordable price is very much in the public's mind
Similarly to TFP, Mintel announced key 2023 trends that include consumer demand for energy-efficient food, clear and simple messaging and formulations that offer functional benefit (for example "staying sharp" and focussed). They even point us towards food and drink products that support consumers and their pets in dealing with extremes of weather.
Healthy food at an affordable price is very much in the public's mind , with 40% of participants in a 2022 Food Standards Agency (FSA) consumer survey reporting that they felt worried about being able to afford food. Vegetables, beans and pulses can often fulfil the cost, simplicity and health drivers, with pulses and alternative grains also giving us an opportunity to be less reliant on wheat and maize. Climate pressures are creating drivers for growers to look into native crops, as well as alternative and drought-resistant crops.
With the challenges faced globally, as well as increasing awareness of these technologies, there is growing interest in technologies such as precision fermentation and cultured meat. Despite the regulatory and consumer perception hurdles, TFP also tip this as an area of opportunity and activity to look out for in 2023. Mintel take this a step further by suggesting that the food and drink industry should 'look to the stars' and "take inspiration from space-inspired technologies and earthly innovations from space travel findings".
Risks – what do you need to be prepared for?
Now, perhaps more than ever, it is important to focus on ensuring food safety
It will surprise few people to read that, whilst keeping up with consumer needs, food and drink businesses will also need to continue to foresee, plan for and deal with a number of different challenges. Now, perhaps more than ever, it is important to focus on ensuring food safety.
Cost and availability challenges are expected to continue to affect our supply chain. Whether it's lack of supply, no suitable alternatives lined up, or an enforced change from your supplier, there are plenty of opportunities to be caught out. You have to know your ingredients, their functionality and the impact of changing them. You need to build strong, honest relationships with suppliers and make sure you are clear on what is a non-negotiable standard (and where you can afford to flex to keep your factory running). As well as functionality considerations, there are food safety factors to consider when things change. For more details check out our supply chain resilience blog and supply chain resilience webinar from Richard Leathers, Global Quality Lead and Mike Adams, Product Innovation Lead.
Download our FREE Supply Chain Resilience eBook today! Thrive in a changing environment by being prepared, agile and resilient.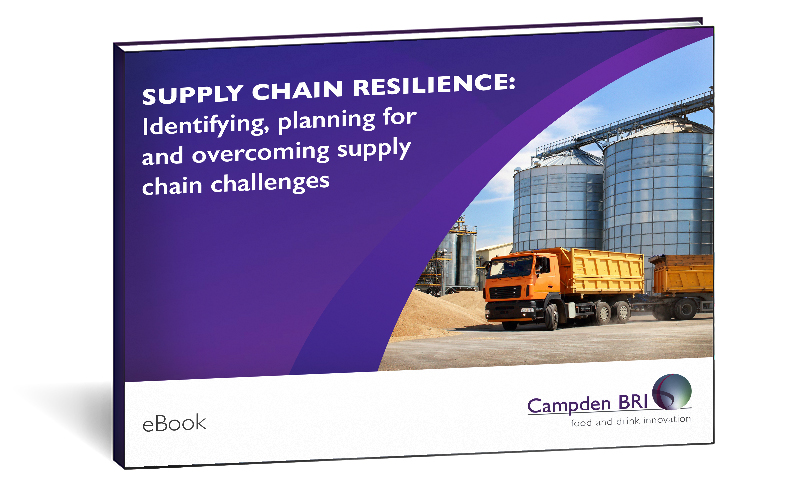 Food fraud will continue to be a threat in these trying times, which are when we must be most tuned into drivers of adulteration and other malpractices. Food and drink businesses must have robust measures in place for identifying and addressing the risk of food fraud, in order to protect consumers, business reputation and their bottom line. It is important to conduct horizon scanning and take action early when a threat is identified (triggers such as drought, conflict or price increases) – review the food safety and quality management systems and get plans put in place so that you are confident that you have addressed the threat of food fraud.
Value engineering and cost optimisation are expected to be a key focus for many businesses, during these challenging times, in order to protect and maximise revenue and reduce costs. It is important to understand what consumers value about your product when developing strategies to reduce costs (while maintaining or improving product value). Cost reductions may be achieved through reformulation, rationalising product and raw material portfolios, optimising packaging and extending shelf-life.
Shelf-life extensions, whilst advantageous for manufacturers, stockists and even consumers, must be carefully managed to ensure that food safety and quality are maintained. We are likely to see increased activity in the area of shelf-life extension, with manufacturers wanting to reduce waste and improve profit margin.
Consumer abuse of products, such as improper storage and disregarding shelf-life (for example, misinterpretation of the 'sniff test'), may be more likely in the climate of consumers wanting to reduce their household waste and costs. September 2022 data from the FSA showed that some people were taking food safety risks because of financial pressures, with concerning figures reported for consumers eating food past its use-by date and turning off their fridges / freezers.
'Ghost kitchens', or 'dark kitchens' (producing and delivering online-only orders, without having a storefront) have become more prevalent in recent times. With cost pressures preventing many consumers from eating out as regularly in restaurants, we may see this trend increase. The development of multi-user ghost kitchens (multiple 'virtual' outlets operating from the same kitchen) may contribute to making ghost kitchens an attractive business venture in the current economy. However, the multi-user element introduces increased complexity, which in turn could increase food safety risks if not carefully managed.
Farming technologies for reducing energy are likely to be a focus in 2023, with the progress of hydroponics and vertical farming likely to continue to be challenged by the high energy costs of their infrastructure and controlled environments. Further along the supply chain, manufacturers are moving away from a 'just in time' process for their material requirement planning (usually the preferred approach, due to working capital considerations and to minimise storage costs). They are moving instead towards a 'just in case' mindset (holding bigger stocks of key ingredients to protect themselves from the risks of supply challenges). In various areas of the supply chain, consideration may also be given to investing in technology that aims to help overcome skills and labour shortages.
Quality culture is especially important for all food and drink businesses to focus on. With general industry themes of increased staff turnover, increasing costs and decreased investment in recent years, it is vital that businesses keep their people engaged and focused on the goal of producing safe and quality products for their consumers. Quality culture can also affect production output, with adherence to suitable planned maintenance schedules impacting product safety / quality as well as performance reliability of production equipment.
Adaptation and resilience will no doubt continue to be displayed by the food and drink industry and its people. As the changing global context continues to transform the way we produce, distribute and consume food, the industry will need to use effective and proactive food safety management to keep up.
At Campden BRI, we stay on top of the latest developments by working with the end-to-end food and drink supply chain, as well as cooperating with a wide network of external partners. We can use this, as well as our world-class laboratories and processing facilities, to help food and drink businesses to navigate challenges and maximise opportunities throughout 2023 and beyond.
How can we help you?
If you'd like to find out more about any of the topics raised here, including how we can support you and your business, contact our support team to find out how we can help.
Are you a Campden BRI member who attends the MIG meetings?
- If not, you're missing out on a whole host of exclusive benefits such as learning from industry-leading experts and networking with peers to overcome your challenges.