Colour and visual appearance of food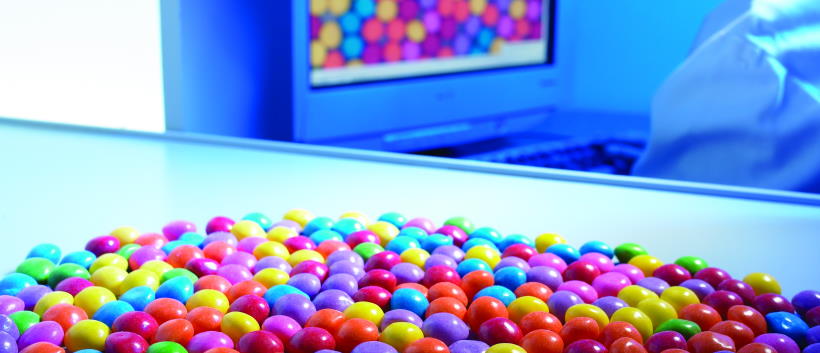 Consistent and accurate measurements of the colour and visual appearance of food products is extremely important. Various methods are available for the colour measurement of food, allowing a wide variety of sample types to be tested. Food colour measurement results are typically provided on the CIELAB scale. Others are available on request.
We have a range of kit available for food colour analysis and testing. This includes:
Chromameter
This hand-held instrument provides quantitative colour measurements and is robust enough to be operated in production environments. Ideal for use during NPD or reformulation trials.
Spectrophotometer
This is a laboratory based instrument that provides very accurate quantitative colour measurements, calculated from measurements of the full spectrum. Two measurement modes are available, depending on the nature of the sample. Uniform solid materials and powders are measured in reflectance mode. Transparent liquids are measured in transmittance mode. Ideal for uniform solid materials, powders and transparent liquid products.
DigiEye
DigiEye is an imaging system that captures colour calibrated images. Colour measurements of specific regions within a non-uniform product can be made. This instrument is ideal for quantifying colour variation across a product (e.g. extent of browning on a baked product). Additionally, this instrument can be used to produce high quality images for reliable documentation of appearance, including colour calibrated printed images for use as specification control charts.
Standard colour methods are available for specific products, including:
Flour colour by CCAT Method No. 25, published by Campden BRI - a standard method in the UK.
Colour of clear and hazy juices, by IFU Analysis No. 80
Beer and wort (absorbance 430nmnm, reported in EBC units)
Haze in beer (reported in EBC Formazin haze units)
Food analysis training courses
Explore our food analysis related courses including; Safety and quality culture excellence and Calculating meat content
Are you getting the most from your Membership?
Watch our membership FAQ videos and find out more about Member Service Account spending, Member Interest Groups, help and advice
Where we refer to UKAS Accreditation
The Campden BRI group companies listed below are both accredited in accordance with the recognised International Standard ISO17025:2017 by the United Kingdom Accreditation Service (UKAS). The accreditation demonstrates technical competence for a defined scope of methods, specific to each site, as detailed in the schedules of accreditation bearing the testing laboratory number. The schedules may be revised from time to time and reissued by UKAS. The most recent issue of the schedules are available from the UKAS website www.ukas.com
Campden BRI (Chipping Campden) Limited is a UKAS accredited testing laboratory No. 1079 Campden BRI (Nutfield) is a UKAS accredited testing laboratory No. 1207