Modified atmosphere packaging (MAP)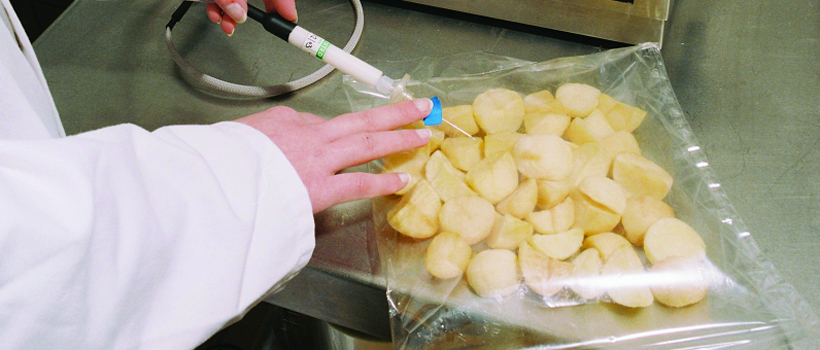 Determination of gas volumes
Determination of gas volume inside sealed packs is important in establishing the correct gas:product volume ratio - a crucial factor in modified atmosphere packaging.
Gas headspace analysis
Gas headspace analysis can accurately measure the oxygen, carbon dioxide and nitrogen composition in the headspace of sealed flexible or rigid packages, including metal packaging.
Modified atmosphere packaging
Campden BRI's packaging team can pack products within selected modified atmosphere gas mixes for trials and assessment in a range of rigid and flexible packaging formats, using our new Dansensor gas mixer, Multivac machine and Proseal tray sealer.
Samples can be returned to the manufacturer or stored for further evaluation.
Shelf life trials
Campden BRI offers a complete shelf life evaluation service. Product can be stored from -18°C up to 40°C with temperature cycling to mimic abuse if desired. Products can be tested at suitable time points for relevant organisms, assessed by trained quality assessors and chemical analysis can be incorporated where appropriate.
You may also be interested in
Packaging training courses
Explore our packaging related courses including; Packaging technology for non-packaging technologists and MAP (modified atmosphere packaging) – an introduction
Are you getting the most from your Membership?
Watch our membership FAQ videos and find out more about Member Service Account spending, Member Interest Groups, help and advice
Where we refer to UKAS Accreditation
The Campden BRI group companies listed below are both accredited in accordance with the recognised International Standard ISO17025:2017 by the United Kingdom Accreditation Service (UKAS). The accreditation demonstrates technical competence for a defined scope of methods, specific to each site, as detailed in the schedules of accreditation bearing the testing laboratory number. The schedules may be revised from time to time and reissued by UKAS. The most recent issue of the schedules are available from the UKAS website www.ukas.com
Campden BRI (Chipping Campden) Limited is a UKAS accredited testing laboratory No. 1079 Campden BRI (Nutfield) is a UKAS accredited testing laboratory No. 1207