Rheology and interfacial properties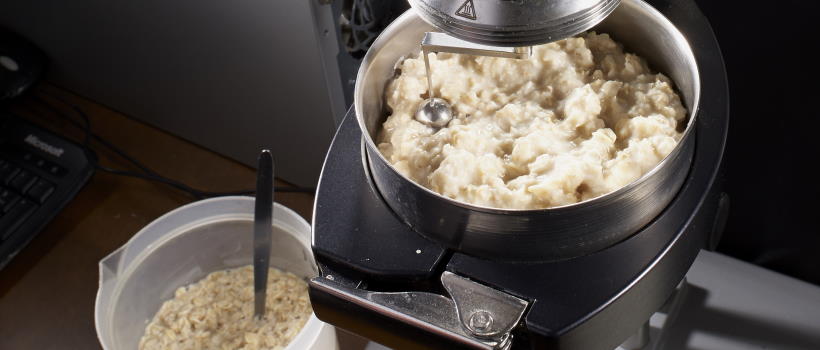 Food rheology is the study of the rheological properties of food which includes the consistency and flow of food under specified conditions - for example, the flowability of apple sauce through a pipe. It is important in determining food texture as well as how food behaves physically when subjected to physical forces and forced to flow. The rheological properties of raw materials, intermediate products such as batters and doughs as well as final products can be studied.
We have a range of techniques for the analysis and testing of food rheology, including:
Oscillatory measurements
Fundamental oscillatory measurements apply a small deformation and measure the response while maintaining the integrity of the test material. The viscoelastic properties measured gives insight into the structural properties of the material as well as an insight into the likely stability over time. Changes in rheological properties as a function of temperatures can be performed to mimic baking processes.
Viscosity measurement
Rapid Visco Analysis method measures the viscosity build up of starch- based materials as they are heated through a controlled heating program. The rate of heating and degree of shear force on the viscosity of the material can be measured as well the effect of salt, emulsifiers, enzymes and other materials. Viscosity flow curves can be obtained over a range of shear rates using rotational viscometers.
Drop shape analysis
Surface or interfacial properties play an important role in foam and emulsion creation and stability. The wetting behaviour of a liquid when in contact with a solid surface is conveniently measured by making contact angle measurements.
Flow measurements
The Bostwick Consistometer measures the distance a sample flows in a given time. It can measure the consistency and flow rate of products such as sauces, purees, salad dressings, batters and in fact any viscous or semi-solid material.
Rheology training courses
Explore our rheology related courses including; Product assessment and Cereal science and technology
Are you getting the most from your Membership?
Watch our membership FAQ videos and find out more about Member Service Account spending, Member Interest Groups, help and advice
Where we refer to UKAS Accreditation
The Campden BRI group companies listed below are both accredited in accordance with the recognised International Standard ISO17025:2017 by the United Kingdom Accreditation Service (UKAS). The accreditation demonstrates technical competence for a defined scope of methods, specific to each site, as detailed in the schedules of accreditation bearing the testing laboratory number. The schedules may be revised from time to time and reissued by UKAS. The most recent issue of the schedules are available from the UKAS website www.ukas.com
Campden BRI (Chipping Campden) Limited is a UKAS accredited testing laboratory No. 1079 Campden BRI (Nutfield) is a UKAS accredited testing laboratory No. 1207