Brewing sensory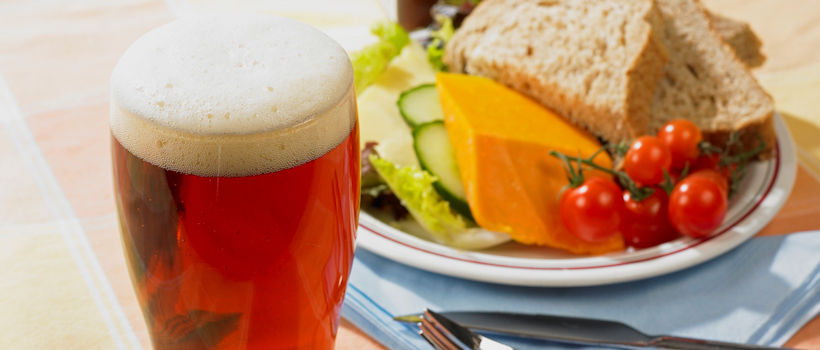 Our experienced sensory team can help you to maintain the highest quality in the flavour of your products. Through a combination of services we can help you with everything from tasting the raw materials and tracking the flavour of your product through to troubleshooting taints and panel training.
Benefits of using Campden BRI for sensory services
Specialist sensory panels for beer and alcoholic beverages
Independent objective assessment
An internationally recognised centre of excellence for sensory capabilities
UKAS accredited analyses
Proven track record in brand support and troubleshooting
For non routine issues with flavour, we are able to help you with your problems by using our wealth of in-house experience and technical support. We can arrange to visit your site or host a technical visit at Nutfield. We can perform audits, conduct bespoke training or provide a second opinion as needed.
Brewing sensory services we offer include:
Flavour assessment
We have a large pool of expert tasters and specialist panels for products such as beer, malt, wines and spirits. Depending on requirements of the client, we can offer the following range of tests:
Descriptive - provides a qualitative and quantitative flavour profile of the product using Quantitative Descriptive Analysis (QDA) or Technical Profiling. These quantitative and qualitative descriptive tests are most commonly displayed graphically by use of a radar plot. Analysis of variance (ANOVA) or more complex multivariate analysis (eg PCA, GPA) can be performed as appropriate.
Difference - this test will ascertain whether there is a statistically significant difference in the sensory attributes of two or more products. The most commonly used test is the Triangle Test, for which we hold UKAS accreditation.
Selective - a rapid and powerful test, most often used in the identification of flavour taints.
Flavour tracking
How consistent is the flavour of your beer? Has the flavour profile of your beer drifted with time?
Our Flavour Tracking service can help you answer these questions. A benchmark brand flavour profile is established against which the flavour of subsequent brews can be compared and consistency tracked over time. The benchmark profile can also serve as a reference against which multi-plant operators can check consistency and/or the impact of raw material/process changes can be assessed. Sensory evaluation and instrumental analyses would be used to establish this profile.
If flavour anomalies are detected or a drift in flavour is identified then recommendations to rectify the situation is reported.
Flavour benchmark
The benchmark profile is based on the tasting of three discrete samples of the fresh beer by our expert panel. The beer can also be subjected to the following analyses: pH, bitterness, ethanol, PG, OG and flavour volatiles (esters, higher alcohols, acetaldehyde, vicinal diketones and DMS).
A full benchmark report includes:
Spider diagram
Description, highlighting key flavour notes
Analytical data
Flavour check
To measure flavour consistency it is recommended that monitoring occurs on a six monthly basis. A report on this monitoring can include:
Spider diagram of benchmark and sample flavour profiles
Description, highlighting key flavour differences
Comparison of analytical data
Recommendations to rectify any flavour anomalies observed
Sensory training
Our sensory team offer a variety of training courses and workshops to help you to maintain and build the skill sets of your staff.
We can provide courses at Nutfield or Chipping Campden, which can also be conducted at your site and tailored to your requirements.
Sensory panel management for beer
Taint troubleshooting
Our approach to identifying and providing advice on the source of taints and off-flavours is to combine our expertise in sensory and analytical chemistry. First, our sensory team will profile the taint in order to provide an indication of the source of the taint or off flavour. Second, this work is backed up by the chemists who may use sophisticated analysis such as LC-MS/MS or GC-MS to identify the compound causing the taint.
Combined, we aim to provide you with a rapid and robust answer to your taint problems.
Submit a sample
For guidance on how and where to send samples, please see our sample guidance page
Brewing training courses
Explore our brewing related courses including; Brewing – an introduction and HACCP for craft brewers
Where we refer to UKAS Accreditation
The Campden BRI group companies listed below are both accredited in accordance with the recognised International Standard ISO17025:2017 by the United Kingdom Accreditation Service (UKAS). The accreditation demonstrates technical competence for a defined scope of methods, specific to each site, as detailed in the schedules of accreditation bearing the testing laboratory number. The schedules may be revised from time to time and reissued by UKAS. The most recent issue of the schedules are available from the UKAS website www.ukas.com
Campden BRI (Chipping Campden) Limited is a UKAS accredited testing laboratory No. 1079 Campden BRI (Nutfield) is a UKAS accredited testing laboratory No. 1207