Sensory evaluation – an introduction (IFST accredited – foundation level)
Optional IFST Foundation exam will take place from 1100 - 1145 hours on 7 November 2022 - this will be remotely delivered and invigilated (exam is included in the course fee).
Prices
Members - £570 + VAT
Non-members - £770 + VAT
Venue
Campden BRI, Chipping Campden
Delegate Feedback (2021)
Loved all the practicals. I learn more from practicals than from theory. The handbook was very informative, lots of information which we can refer to when needed.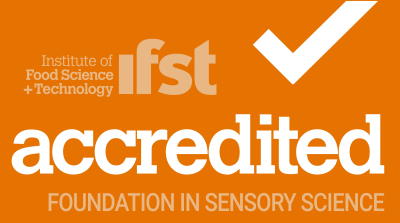 Listen to a tutor talk about the course
Media Player Error
Update your browser or Flash plugin
Benefits of attending
This course provides information on principles of sensory science, the human senses and how they are used in sensory evaluation practices, sensory methodology and best practice when conducting these methods. Typical attendees usually include those with basic knowledge or who are new to sensory science. They will gain an understanding of the importance of objective sensory evaluation activities in the food and drink industry. Attendees will also get the opportunity to gain a qualification in Sensory evaluation at foundation level.
Training Course content
Introduction to sensory science - definitions, applications and benefits
Physiological and psychological aspects of perception - the human senses
Practical considerations for sensory testing – best practice, facilities and assessors
Basic requirements of sensory functions
An introduction to the three main types of methodology in sensory science and its uses
A brief introduction to sensory statistics and interpretation of terminology
Course aims
To provide an introduction to the principles of sensory science
To show practical demonstration of the screening process when using sensory assessors
To highlight the importance of conducting best practice
To show the differences in sensory methods using demonstrated practical activity
To understand how quality systems can be used within a sensory function
To introduce statistical terminology and how statistics are used in Sensory Science.

Learning outcomes
At the end of the course you will be able to:-
Recruit a sensory panel
Screen new assessors to determine their sensory acuity
Use new training techniques gained on the course to get the best out of your panel
Explain why best practice is important
Define the differences in the three main categories of sensory methodology and its uses
Understand the basic sensory statistical terminology used and how to interpret it
The optional IFST exam will take place online and be remotely invigilated - the exam date for the May course is 16 May from 1100 - 1145 hours, details wil be advised on the course.
This course can be customised and is available in house
Event Director - Sue Purcell
Next step
Sensory evaluation workshop (IFST accredited – intermediate level)
Further information
Our training team will be happy to help with any enquiry on +44(0)1386 842104 or at training@campdenbri.co.uk
COVID-19 secure workplace
We continue to offer a range of training options so that you can continue to learn and develop.
Online courses – We are delivering tutor-led training courses online. Find out more.
Face-to-face training – Our on-site events follow strict social distancing and safety measures. View programme.
Book with confidence – We will not charge transfer fees if you need to move your booking to another course date or alternative course/event due to Covid-19.
Tailored training – We also provide tailored training for your teams online or face to face.
If you have any queries, email training@campdenbri.co.uk or call +44(0)1386 842104.
Our Campden BRI COVID-19 secure workplace video was filmed following strict COVID-19 safety rules. At the time of filming it was not mandatory to wear face masks on our sites. Now we ask that all staff and visitors to our sites wear face masks. Thank you.


Please view our training and development programmes listed below, and book with confidence.