Publication detail
Search publications and books
Guidelines for the design and construction of floors for food production areas 2nd Ed 2002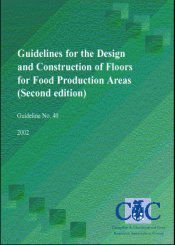 Be aware of and utilise appropriate hygienic design and construction principles for floors of food production areas, to make management of factory hygiene easier and help prevent food contamination.
This particular guide looks in detail at floors in food production areas. Written with the close involvement of the food and construction industries, it provides a flow diagram for decisions on flooring design, followed by detailed practical advice on the underlying and overlying substrates, movement joints, drainage, surfaces, cleaning, maintenance and repair. Intended for anyone considering building, renovating or refurbishing food production areas, this practical guide will help companies to avoid mistakes which could compromise food safety or add significantly to the on-going costs of maintaining hygiene in food production areas.
This guide complements CCFRA's related publications Guidelines on hygienic layout, design and construction of food factories (Guideline 39), Guidelines on the design and construction of walls, ceilings and services for food production areas (Guideline 41) and Guidelines for air quality standards for the food industry (Guideline 12).