Publication detail
Search publications and books
The use of chlorine in fresh produce washing 2002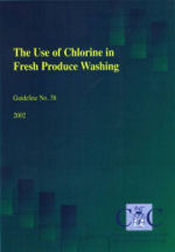 Understand the principles and practicalities of chlorine-based washing to help adopt best practice in its use and assure product safety.
Fresh produce is often washed to remove soil particles and/or microorganisms from the outer surface. For the latter, the wash will often include a biocide, commonly chlorine. Despite its widespread use, however, there is no specific guidance on the use of chlorine for fruit and vegetable decontamination. This document therefore sets out to provide background information on the use of chlorine for fresh produce washing and emphasises some broad principles of best practice for chlorine-based washing of fruits and vegetables.
Although it is a practical guide, it draws on information that CCFRA has gathered on current washing techniques and also on trials conducted at CCFRA using a pilot scale wash tank. It uses these trials to illustrate how factors such as organic loading (i.e. the amount of material being washed) and monitoring of chlorine levels can influence the approach taken and the effectiveness of the wash. It also briefly highlights some of the pros and cons of alternatives to chlorine such as ozone, hydrogen peroxide and organic acids.