Publication detail
Search publications and books
Food safety publications bundle (G76 Food Safety Plans; G72 TACCP/VACCP; G60 Traceability; G42 HACCP) 2016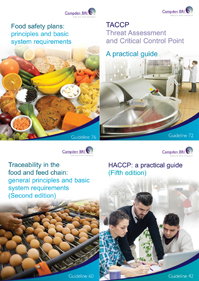 This Food safety publications bundle combines key Campden BRI guidelines providing assistance to food business operators in the development of their food safety management systems.
For many years the food industry has used a combination of HACCP and/or prerequisite programmes to manage food safety. Systems for external traceability are required by European Union legislation and in general the food industry also operates internal process traceability. More recently concerns about security and authenticity of food products have led to the development and use of techniques such as TACCP.
All these different techniques have vital roles to play in the assurance of food safety. Increasingly it has been recognised that these different techniques need to work in harmony to provide maximum benefit. This recognition has led to the concept of a Food Safety Plan, the objective of which is to coordinate the functional component parts of food safety management for the effective assurance of food safety.