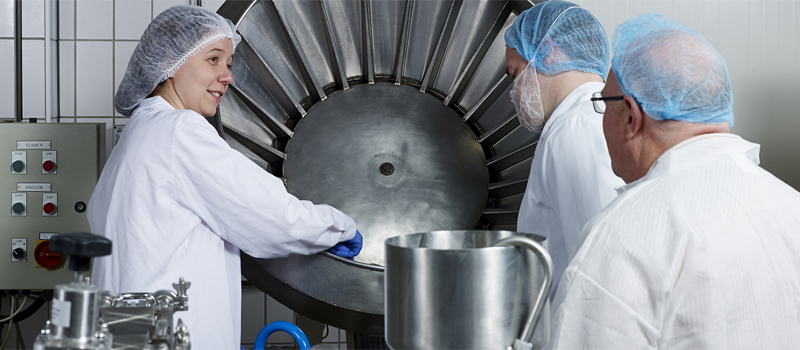 Cleaning and Disinfection for food factories Seminar

24 November 2020
Member: £70
+ VAT
/ Non-member: £110
+ VAT
Group discounts available on request. Contact Training

Online event
Summary
Ensuring your factory is cleaned and disinfected effectively is a fundamental prerequisite for the safe production of food and drink. To help you with this, we're bringing together experts with specialised knowledge to discuss the latest trends and findings. From effective allergen cleaning/testing to the challenges associated with cleaning equipment, the seminar will cover the varied aspects associated with cleaning and disinfection of food and drink manufacturing factories, including:
an overview of chemicals used in food factory cleaning and disinfection
disinfectant testing and aerobiology
the use of ATP to monitor cleaning and disinfection
food hygiene, and
management responsibilities from the food producer's perspective
The seminar is most suitable for those involved in cleaning and/or disinfection of food and drink factories. It will complement the soon to be released update of industry guidance related to this topic: Campden BRI's Guideline 55: Cleaning and disinfection of food factories.
Benefits of attending
Overview of chemicals used in food factory cleaning and disinfection
Effective allergen cleaning/testing
Disinfectant testing and aerobiology at Campden BRI
Challenges associated with cleaning equipment
Use of ATP to monitor cleaning and disinfection
Food Hygiene at Campden BRI
Management responsibilities/food producer's perspective
Event Director
Exhibiting
Programme
Time
Presentation
10:30
Welcome and Chairman's introduction
Dr Phil Voysey, Campden BRI
10:40 - 11:20
Overview of chemicals used in factory cleaning and disinfection
Peter Littleton, Christeyns
11:25 - 12:05
Effective allergen cleaning / testing
Dr Helen Arrowsmith, Campden BRI
10:05
Lunch
12:50
Welcome back
Dr Phil Voysey, Campden BRI
13:00 - 13:40
Challenges associated with cleaning equipment
Deb Smith, Vikan
13:45 - 14:25
Use of ATP to monitor cleaning and disinfection
Matt Bricknell, 3M
14:25
Comfort break
14:35 - 15:15
Management responsibilities/food hygiene producers perspective
James Hartley, Mondelez
15:20 - 15:40
Disinfectant testing and aerobiology at Campden BRI Food hygiene at Campden BRI
Rob Limburn, Campden BRI
15:45 - 16:05
Food hygiene at Campden BRI
Nigel Blitz, Campden BRI
16:05
Chairman's overview and closing comments
Speakers
Phil Voysey
Phil Voysey is an experienced, well-respected food microbiologist with 'all round' knowledge and ability in food manufacturing and research environments. Phil studied Microbiology at the University of Surrey, Guildford and achieved his doctorate at the University of Bristol, Department of Biochemistry with his thesis entitled: 'Studies on the growth of the Chemoautotroph Nitrosomonas europaea.'
For 8 years Phil was a Research/Senior Microbiologist at the Flour Milling and Baking Research Association (FMBRA), and for a further 3 years the Group Microbiology Laboratory Manager at Northern Foods, Nottingham.
Currently Phil is a Section Manager in the Microbiology Department at Campden BRI (Chipping Campden) and his Section's duties include organising and running microbiology training courses and the Campden Microbiology Proficiency Scheme. Speciality areas of microbiology include: Listeria; Yeasts; Moulds; Microbiological Risk Assessment; Microbiological Criteria; and Cereals and Milling Microbiology. Phil has written numerous papers and contributed towards a variety of articles and publications and been invited to present at many International conferences.
Helen Arrowsmith
Helen Arrowsmith is currently a Food Law Advisor in the Regulatory Affairs Department at Campden BRI. Helen uses her knowledge to work with colleagues to provide legislative advice to the food and drinks industry, to present on scheduled and tailored training courses on food law and to contribute to publications such as Food Law Notes and Food Law Alert.
Helen joined Campden BRI in 2004 when she spent a year as Technical Support Officer in the Food Composition Section, dealing with operational matters and providing managerial cover to the Rural Payments Agency and HM Revenue and Customs contracts. The next 9 years were spent in the Biochemistry Section at Campden BRI, where Helen worked her way up to the position of Team Leader of the Food Allergens Team. Helen managed the provision of technical contract services in the area of food allergen detection, provided interpretation of testing results, consultancy, information and advice on food allergen testing. Helen also managed member-funded research projects and authored two guidance documents for the food industry on 'Validation of cleaning to remove food allergens' (Campden BRI Guideline 59) and 'Food allergens: practical risk analysis, testing and action levels' (Campden BRI Guideline 71)
Helen studied for her PhD, on the 'Impact of Anthropogenic Ionising Radiation on Soil Microbial Communities', at the University of Nottingham where she had previously graduated with a BSc (Hons) degree in Agriculture and Food Sciences: specialising in Food Microbiology.
Rob Limburn
Rob Limburn is a graduate in Microbiology from the University of Aberdeen. He is currently working in Campden BRI's Microbiology Department in the Heat Resistance and Decontamination Group. This group is primarily involved in member-funded and contract research into microbiological validation, optimisation and problem solving in the area of thermal processing and decontamination.
Rob is currently involved in member-funded projects investigating the use of surrogate organisms in thermal process validation and the validation of thermal processes applied to low Aw commodities.
Nigel Blitz
Nigel Blitz joined Campden BRI as a food management systems specialist in 2019 following more than 20 years' experience as a food, hygiene and quality manager across a broad range of food and beverage manufacturing environments.
Nigel helps the industry by providing consultancy in environmental monitoring, internal factory design (to ensure it complies with BRCGS) and other factory hygiene-related issues. In addition to this, Nigel also teaches on food technology and microbiology courses and helps update guidance on the cleaning and disinfection of food factories.
Please note that copies of the presentations will not be available on the day but will be emailed within a few days of the event as an electronic download in PDF format.
Sign up to 2 years free subscription to an online Continuing Professional Development (CPD) tool.