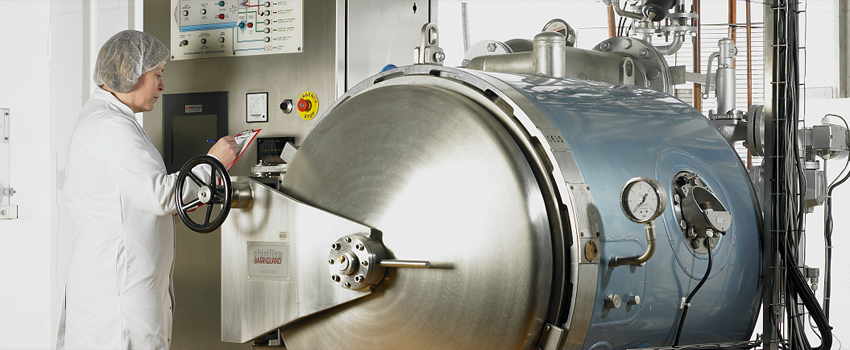 Blockchain and other emerging approaches supporting food safety and risk management seminar

31 March 2020
Member: £299
+ VAT
/ Non-member: £399
+ VAT
Group discounts available on request. Contact Sian Twinning
Important information about Campden BRI events
All on-site training courses and seminars due to be held between 23rd March and 31st July are being rescheduled for August onwards. You can still register interest and we will notify you of rescheduled dates. You will not be charged until the event takes place. For enquiries please contact training@campdenbri.co.uk +44(0)1386 842104
Summary
Blockchain and Bowtie are currently popular 'buzzwords' in the food industry. But what exactly are they? How do they support food safety and risk management systems? And what other emerging approaches are there?
To help you answer these questions, we've put together a workshop with experts on blockchain and Bowtie Food Safety and supply chain control systems to provide you with:
an understanding of new food safety principles
guidance on how to practically implement these systems, and
the opportunity to work with and discuss new concepts and techniques
Keynote speakers include James Flynn, founder of Global Food Blockchain Initiative, Alistair Cowin of CGE Risk and Stephen Whyte of QADEX (industry leaders in digitisation of supply chain control systems).
Why focus on blockchain?
Food safety management systems have evolved in recent years. They originally started as discrete studies, such as HACCP evaluations, but have since developed into a more holistic approach. These systems are now based on the consideration of risks arising from threats, vulnerabilities, hazards (in a HACCP context) and mitigation through the identification of effective controls implemented through in-process management systems. A key challenge is the communication of this holistic picture, which is where 'bowtie' comes in. Bowtie is one such approach that allows visualisation of risks associated with a manufacturing operation – communicated in a simple diagram that resembles a bowtie.
Our speakers will help you understand blockchain and other emerging approaches supporting food safety and risk management systems.
Who should attend
The workshop is most suited to technical and quality managers in the food industry, and those who manage food safety, quality, authenticity and risk in the food supply chain including growers, manufacturers and retailers.
Event Director
Programme
Time
Presentation
10:00
Welcome and housekeeping
10:05
Overview of principles and protocols of blockchain / digital ledgers
Richard Leathers, Campden BRI
10:25
In-depth information on digital ledger systems, including a practical demonstration
Jim Flynn, Primority
11:10
Introduction and overview of "Bowtie" principles
Andrew Collins, Campden BRI
12:15
Lunch
13:00
How integrated risk assessments save time, reduce risks and make your team happier
Everyone does risk assessments, this interactive presentation will show you how to transform your risk assessment process. Take away techniques which will reduce the risks faced by your business and reduce the burden of admin on your technical team, resulting in a happier team
Stephen Whyte, QADEX
13:45
"Bowtie" practical workshop
Alistair Cowin, CGE Risk
14:50
Q&A
15:00
Close
Speakers
Richard Leathers, Campden BRI


Richard Leathers joined Campden BRI in September 2011, working in the area of Food Manufacturing Technology - HACCP and Quality Management Systems.

Richard started working in the food industry nearly 30 years ago with Dairy Crest and subsequently worked for both Best Foods and Heinz. He also has experience within the fresh produce sector at Kanes Foods, as well as analysis systems in the milling / baking areas, and is a BRC qualified auditor. Richard is Event Director for a number of courses at Campden BRI, and is also Technical Secretary of the Quality Management and Food Safety Member Interest Group.

Andrew Collins, Campden BRI


Andrew Collins joined Campden BRI at the beginning of 2009; where he is a food safety management system lead. His main work, focus is on the practical application of FSMS which involves training, auditing against the Campden BRI HACCP Auditing Standard and consultancy.

He is also responsible for training in the application of HACCP by feed operations. He has been involved with training projects of competent authorities officials for the EU and FSA on HACCP and auditing. He was a member of the GFSI Technical Working Group for Food Service and is a Lead Instructor for Preventive Controls Qualified Individual (PCQI) training.

Other main areas of includes Risk evaluation and the development of a holistic approach to food safety management, including HACCP; PRPs; Traceability; Hygienic design and developing Food safety plans. He has presented at a number of conferences.

Alistair Cowin, CGE Risk


Alistair is a chartered member of the Institution of Mechanical Engineers, with (almost) 21 years' experience in aerospace systems engineering, safety and airworthiness in the design, maintenance and operation of military aircraft. His specific expertise is in safety engineering, having completed an MSc in Safety Critical Systems Engineering at the University of York and developed a safety management system in the continuing airworthiness environment for the maintenance of military aircraft. More recently he has been consulting in safety and has focussed on communication of risk within user communities with an interest in Barrier Risk Management.

Stephen Whyte, QADEX


Stephen trained as an accountant on the Kerry Foods graduate development program and spent many satisfying years growing and developing with Kerry, followed by several rewarding years at Samworth Brothers, prior to becoming involved in founding QADEX.

Starting with a team of 2 in 2006, QADEX has grown steadily to a team of over 70 hard working and dedicated professionals committed to supporting over 14,000 food manufacturing sites globally enabling step change improvements in food safety and brand protection.

QADEX Vision is the market leading Technical IT software solution for food businesses. As a managed and modular software solution, delivered over the internet, QADEX offer solutions for Supplier Risk Assessment, Self Audit Questionnaire Management, Audits & Visits Management, Specification Management, Allergen Validation, Finished Goods Specification Management, Goods In Management and Customer Complaints Management, with an additional solution for New Product Development soon to be added. These tools will collect and collate data and then turn it into business intelligence enabling food businesses to drive step change improvements and substantial cost reductions.

Over recent years the most rewarding part of my role has been observing the growth and development of the QADEX team and the range of solutions enjoyed by QADEX customers.

Specialties: Supply Chain Assurance, Supplier Compliance Management, Food Specifications, Retail Supply Chains, Software Development.
Please note that copies of the presentations will not be available on the day but will be emailed within a few days of the event as an electronic download in PDF format.
Sign up to 2 years free subscription to an online Continuing Professional Development (CPD) tool.