Gluten–free bakery conference
Conference: Thursday 16 – Friday 17 March 2017
Campden BRI, Chipping Campden, Gloucestershire, GL55 6LD, UK
Members of Campden BRI: £495 + VAT
Non-members: £595 + VAT
Group discounts available on request. Contact Daphne Davies
Media partner
Summary
This conference will provide the food manufacturing sector with a comprehensive review of how the technological challenges associated with gluten–free baking have been addressed to deliver products acceptable to the Coeliac sector and beyond. It will focus on understanding the issues around developing gluten–free baked goods, with four technical sessions divided into the following themes:
Setting the scene: the need for gluten–free products, allergen control and legislation aspects
An ingredient–based approach to gluten–free: how specific ingredients can be used to replace the functional properties provided by gluten
Current research in gluten–free technology
The gluten–free product manufacturing and supply chain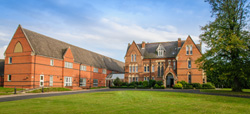 Conference dinner venue details: Ettington Chase Hotel.
Ettington Chase HotelBanbury Road Ettington, Stratford–upon–Avon, CV37 7NZ, UK – map and location
Accommodation and travel: The rooms at Ettington Chase have now all been reserved, and we advise you to book accommodation from this list or there are plenty of other options in the Stratford–upon–Avon area which is only 20 minutes drive from our site in Chipping Campden
Collaborator

Sponsored by
Key benefits of attending
Improved knowledge in the current developments in the GF field
Networking with suppliers, retailers, researchers and manufactures in the GF field
Insight into the GF consumer habits
Who should attend?
The intended audience are food professionals with an interest in gluten-free technology, products and processes. Food analysts, lab technicians and managers, technical managers, retailers and food services providers.
The speakers – please click on to the programme to see the full speaker listing
Event directors: Solomon Melides and Sarab Sahi
Please note that copies of the presentations will not be available on the day but will be emailed within a few days of the event as an electronic download in PDF format.
Sign up to 2 years free subscription to an online continuing professional development (CPD)tool click here for further details