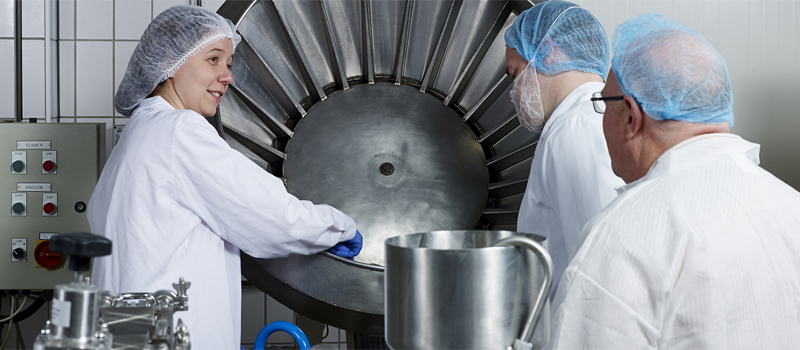 Environmental Monitoring Plans - Live Online Seminar
Did you miss out?
If you weren't able to make the live online event, you still have the opportunity to view and listen to the speaker presentations.
The recording and presentations are available to purchase at £70 + vat for Members and £110 + vat for non-members.
To purchase, please contact the Training Team.
Summary
Environmental monitoring forms a key part of a food safety management system in any food producing environment and forms a part of some regulations (e.g. EC 2073/2005) and audit requirements (BRCGS).
Checking the microbiological status of a production area before and after cleaning, and perhaps at various times during production, allows you to build a picture of the hygienic status of that manufacturing area. Yet common questions are often raised, including: What should I look for? How should I sample? How do I analyse results? What do I do next?
This seminar will provide you with an in-depth look into environmental monitoring with experts in the field, including Dr Roy Betts and Dr John Holah. It will cover both dried food production and chilled food production systems, and will consider the important safety issue of allergens and allergen monitoring. With COVID-19 still a risk factor, our virologist Martin D'Agostino will take you through environmental monitoring to detect SARS-CoV-2.
This key seminar will be held together with experts that have been producing a new guideline for the International Life Sciences Institute (ILSI) Europe on environmental monitoring in dry manufacturing and will feature some of the authors.
Event Director
Programme
Time
Presentation
10:00
Welcome and Chairman's introduction
Dr Isabelle Guelinckx, ILSI
10:10
Environmental monitoring: why do it, pathogens, hygiene indicators and food packaging issues
Nigel Blitz, Campden BRI
10:55
How to sample – pros and cons
Dr Roy Betts, Campden BRI
When setting up an environmental monitoring system there are a number of important considerations to make to ensure that it fits your needs, that it is indeed "fit for your purpose". If you think of environmental testing as a way of asking questions about the microbiology of your production area, then you must ensure that you ask the right questions, get this wrong and the answers you get (i.e. the test results will be meaningless, or worse- may be open to misinterpretation). So things like: where and when do I test; which organisms and/or groups do you test for; how do you take the sample; how do you transport it to the laboratory; what does the results show & how do I treat the results to make them useful to me;--all become critical to the success of the testing programme. We will investigate many of these issues in this talk.
11:40
Monitoring for ready-to-eat products
Dr John Holah, Principal Corporate Scientist, Holchem Laboratories Ltd.
The presentation will consider why environmental monitoring and verification is required based on the 5-Point Pathogen Control Model. In this model, sources of pathogens, and the vectors on which they can cross-contaminate the environment and food products, are identified in the (typically) RTE high hygiene food manufacturing areas (buildings, services, equipment, utensils, and operatives etc.). Following the identification of such sources and vectors, control plans are put in place to eliminate them or reduce their risk. Controls are then monitored, to ensure that they are working correctly, and verified by the development of a microbiological environmental sampling plan. The sampling plan also establishes 'collector' samples, which maximise the detection of pathogens by e.g. sampling a composite of residues of the food product on food processing equipment or objects that have been in contact with large surface areas (e.g. cleaning equipment, hands, footwear, wheels, drains). In a mature sampling plan, if no pathogens are found in the collector samples, and barrier, source, vector and cleaning controls are effective, there is a reasonable probability of no pathogens being present in the high hygiene environment.
12:20
Lunch
13:00
Welcome back
Dr Isabelle Guelinckx, ILSI
13:10
Environmental monitoring in the dairy sector
Dr Francois Bourdichon, Chair of the Standing Committee on Microbiological Hygiene of the IDF, Action Team Leader Processing Environment Monitoring
Processing Environment Monitoring has been promoted for the past 20 years as a proactive approach to avoid product contamination. Recent Dairy food related episodes (S. Agona and S. Poona for Infant Formulation, L.spp and L.monocytogenes for Queso Fresco) show that the implementation and the preventive / corrective action plan are presently not in place everywhere. There is still a gap in the science and the factory application. After the publication of the dedicated bulletin on Listeria spp. and Listeria monocytogenes - Significance in Dairy Production.
IDF has decided in the program of work of the SCMH (Standing Committee on Microbiological Hygiene) to propose in an IDF Bulletin the WHY, WHAT and HOW of a processing environment monitoring program.
A factsheet (open acess) has already been published, promoting the proximity approach as recommended by the ICMSF.
On top of the surface swabbing as recommended in the ISO18593 for targeted microorganisms, NGS tools and the study of a factory environment microbiota provides also valuable insights to ensure safe food production. When it comes to tracking down microorganisms of concern in a processing zone, there are numerous tools, options, methods, and also regulations that need (must) to be taken in consideration.
13:55
Monitoring in dry production environments – Specific challenges
Dr Anett Winkler, Cargill
Over the last years processing environment monitoring (PEM) gained increasing importance in food safety programs and related legislation FDA, EU), since past outbreaks have shown the relevance of the environment as contamination pathway. PEM offers a proactive approach to identify possible microbiological contamination of the food product, where finished product testing is too reactive and not fit for purpose to detect low level of contamination. However, there are still many open questions and a lack of clarity on how to set up a meaningful program, which could provide early warnings of potential product contamination.
Dry production environments are limiting growth of microorganisms, but allowing for some specific microorganisms better survival and increased resistance to certain treatments used in food industry meant to decrease and remove them. It is therefore important to understand what are the microorganisms of concern (pathogens), where and when would they most likely be found, where the focus of PEM should be in order to be able to detect them. Also, other equally important elements of a PEM plan will be discussed, including trending and corrective actions.
14:35
Comfort break
14:45
Monitoring for allergens
Dr Anton Alldrick, Campden BRI
Food allergy is an acknowledged public health issue and one route by which the food-allergic consumer can be put at risk is through exposure via food cross-contact contaminated with the allergen. Environmental monitoring for food allergens is therefore critical in ensuring their control and assuring the efficacy of relevant cleaning systems. Assessment of cleaning efficacy often involves directly testing for the presence of the food allergen itself or a suitable marker protein and the success of the testing programme is highly dependent on both, choice of test and sampling method used. Successful environmental monitoring for food allergens takes into account, standardized sampling techniques, the physical nature of any residues as well as confounding factors (e.g. rinse water, pH as well as the potential presence of cleaning materials and other agents such as terminal sanitisers).
15:30
Virus monitoring – the SARS Cov2 story
Martin D'Agostino, Campden BRI
16:15
Chairman's overview and closing comments
Speakers
Dr Roy Betts
Roy Betts is a Fellow at Campden BRI, an independent international food consultancy and research organisation based in the UK. His role is to ensure that the industry maintains a full awareness of all microbiological concerns and to help companies respond to and manage microbiological issues relevant to them and their products. Prior to taking this role, Roy managed a large microbiology department at Campden BRI, with particular interests in test method development and validation, and incident and crisis management.

Roy has published widely in the area of food microbiology and is a member of many committees including:

British Standards Institute AW 9 Committee, Methods for the Microbiological of Foods and Animal Feeds
Chairman of the Board of Directors of the Association of Analytical Chemists (AOAC) Research Institute
Member of the MicroVal General Committee for European microbiological method validation.
Member of the European Chill Food Federation VTEC working group
Expert reviewer for the AOAC RI for microbiological test methods
Member of ISO TC34/SC9 WG3 – Validation of microbiological methods


Current related lecturing capacity at Campden BRI:

MOD courses
Client specific courses e.g. retailer courses

Dr Anton Alldrick
Anton Alldrick is Special Projects Manager within the Science Division at Campden BRI, the world's largest, independent, membership-based food research and development organisation. He is a graduate of the University of London; obtaining a BSc in Biochemistry in 1976 and a PhD (studying the genetics of bacterial drug resistance) in 1980. After graduation, he worked in laboratories based in the UK, US and Switzerland as a research and regulatory toxicologist specialising in carcinogen metabolism.
Anton joined Campden BRI in 1990 and held a number of management positions before being appointed Special Projects Manager. In this role he provides consultancy and project management services – particularly in the areas of chemical food safety and scientific regulatory affairs. In recent years he has been especially active in the areas of both novel and functional foods, food allergy and mycotoxins. His clients include the food industry, government organisations and legal firms. He is an author/coauthor of over 80 publications aimed at scientific and/or industrial audiences.
Martin D'Agostino
Martin D'Agostino joined Campden BRI in May 2016 as a food virologist after having worked at the Food and Environment Research Agency (DEFRA) since 1994. His microbiological career began with Kennerty Farm Dairies in Aberdeen (now Robert Wisemans) as a laboratory assistant, monitoring the microbiological quality of milk and milk products until he joined what was the Torry Food Science Laboratory (Central Science Laboratory, MAFF) in 1994 (now named Fera Science Limited).
During this time he has been involved various projects funded by the UK FSA and EU Framework 5, 6 and 7 projects across many areas including Food PCR (FP5), Surveillance of Adenovirus and Norovirus in European Bathing waters (FP6) and was assistant coordinator of the FP7 project entitled "Integrated monitoring and Control of Foodborne Viruses in European Food Supply Chains". Martin has experience of chairing and presenting scientific talks at national and international scientific meetings and has been author in over 30 publications including journal manuscripts, several reviews and book chapters related to the detection and implementation of rapid methods for foodborne and environmental human pathogens as well as being an editor for an Academic Press book on "Molecular Microbial Diagnostic Methods".
He is currently undertaking a part-time PhD at the University of Liverpool with the subject "Investigation of the Contribution of Fresh Produce to the Norovirus Burden"
Dr Anett Winkler
Anett Winkler joined Kraft Jacobs Suchard in December 1998 to head up the research microbiology laboratory in Munich. Later on Anett concentrated on chocolate, biscuits and other low moisture foods including supplier developments and approvals. She also consolidated the scientific basis for microbiological process controls in low moisture foods by performing validation studies for nut and cocoa processing. Following a regional role for Microbiology in the Eastern European, Middle East and African Region she was globally designing food safety programs, rolling out training modules related to food safety and further supporting supplier development. Anett was also the global expert for thermal processing within Mondelez International.
In October 2017 Anett moved to a new position as "EMEA Regional Food Microbiologist Lead" at Cargill, where she is supporting all Cargill businesses in that region (Europe / Middle East / Africa) for microbiological / food safety related topics. Anett is also active in ILSI Europe (Microbiology Food Safety), and IAFP being a committee member for the IAFP European Symposium.
Nigel Blitz
Nigel Blitz joined Campden BRI as a food management systems specialist in 2019 following more than 20 years' experience as a food, hygiene and quality manager across a broad range of food and beverage manufacturing environments.
Nigel helps the industry by providing consultancy in environmental monitoring, internal factory design (to ensure it complies with BRCGS) and other factory hygiene-related issues. In addition to this, Nigel also teaches on food technology and microbiology courses and helps update guidance on the cleaning and disinfection of food factories.
Francois Bourdichon
FranÇois holds a master's degree of General Microbiology from Pasteur Institute, Paris.
After 15 years working for major dairy (Nestlé, Danone, Savencia) and confectionary (Barry Callebaut) food business companies, he now works as a principal consultant for Food Safety Microbiology Hygiene.
Since 2018, he is affiliated to Universita Cattolica del Sacro Cuore, Piacenza, Italy, in DiSTAS: Department of Food Science and Technology for a Sustainable Agri-food Supply Chain.
FranÇois is delegate of France at the International Dairy Federation since 2010. He is member of the Standing Committees on Harmonization of Microbiological Methods (SCHMM) and Analytical Methods for Dairy Microorganisms (SCAMDM).
He represents IDF at Codex CCFH and in different ISO TC34/SC9 Working groups.
John Holah
From January 2021, John became the Principal Corporate Scientist-Food Safety and Public Health for the Kersia Group. In this role, he provides technical insight and consultation to both internal and external customers and leads the company's external interaction with the scientific, academia and industrial community. John is also involved in strategic development of the group to underpin the Kersia Group's expertise related to its philosophy of being the Pure player in managing food safety from farm to fork.
John has a degree in microbiology and ecology from Nottingham Trent University and a PhD in effluent disinfection and parasitology, from the same university in association with Liverpool School of Tropical Medicine.
He spent most of his working life at Campden BRI where he was Head of Food Hygiene, for more than 20 years. During this time he visited >500 food establishments worldwide and became a recognised expert in factory design and the practical management of pathogens. John led International and national research projects, which helped establish food hygiene best practices and worked at a Corporate level to advise major international companies on the development of integrated food safety plans.
John joined Holchem in 2014 as Technical Director and was responsible for developing the technical support provided by the company. This was centred on understanding the customers cleaning needs; putting best practice cleaning programmes in place and validating their efficacy; providing chemicals, engineering tools and test kits to undertake, monitor and verify their performance, supporting customers via cleaning programme management tools, training and cleaning performance audit review and, occasionally, troubleshooting if things go wrong.
John is also an Honorary Professor in Food Safety and Hygienic Design at Cardiff Metropolitan University where he teaches graduate classes and supervises PhD students. He has authored >100 publications, given >200 presentations worldwide and is the editor of a trilogy of food hygiene reference books.
He has supported the works of the European Hygienic Engineering Design Group (EHEDG), International Association of Food Protection (IAFP) and the Global Food Safety Initiative (GFSI) for many years, has chaired various ISO and CEN committees on hygienic design and chemical disinfection and sat on government committees on food safety and hospital acquired infections.
Please note that copies of the presentations will not be available on the day but will be emailed within a few days of the event as an electronic download in PDF format.
Sign up to 2 years free subscription to an online Continuing Professional Development (CPD) tool.